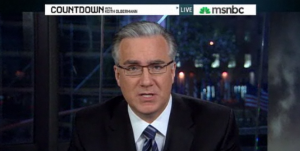 Is Keith Olbermann in the midst of a post-suspension ratings freefall?
Noel Sheppard writes today on his NewsBusters blog that "Keith Olbermann's ratings have plummeted since his post-suspension return to MSNBC."
Have they?
You'll perhaps remember Olbermann was sent home for a long weekend after NBC bosses learned of campaign contributions the star host made in violation of NBC News policy.
According to the liberal bias fighters at NewsBusters, "Countdown saw a 35 percent rise in viewers last Tuesday when the host came back after his brief suspension," but proceeded to lose "almost 500,000 viewers" by Monday. "One has to wonder just how far this ratings plummet will go," says Sheppard.
I don't know–maybe till Tuesday? Just-released ratings for last night's Countdown show no signs of a viewer exodus: 1,281,000 viewers.
For some perspective on the trends in Olbermann's ratings, isn't it wiser to look at month-to-month than day-to-day? Yes.
Even on Monday, Olbermann's show was far and away the biggest ratings performer on MSNBC, and easily beat both Nancy Grace on HLN and Parker Spitzer on CNN.
But what about Bill O'Reilly on FNC? Comparing the ratings for the very same days that Sheppard selects, in the very same hour, O'Reilly also saw a drop–only a bigger one. O'Reilly had 3,795,000 viewers on November 9, but dropped to 3,194,000 by Monday. So–let me grab my calculator here–that's a "plummet" of more than 500,000 viewers. 601,000 viewers to be exact.  To be fair, while O'Reilly had a slightly larger drop, it represents a smaller percentage drop, since his overall ratings figures are so much bigger.
Is O'Reilly in freefall too? Next.
Have a tip we should know? tips@mediaite.com