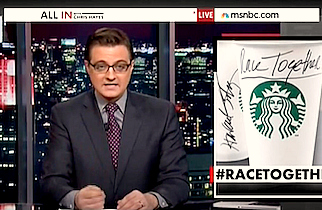 Things got awkward on All in with Chris Hayes Tuesday night, when CBS' Nancy Giles ribbed fellow guest Jay Smooth for appropriating black culture, at which point he informed her he was, in fact, black. Though Hayes and the guests laughed it off, the clip went viral yesterday.
Hayes addressed the moment Wednesday night, first praising the guests for getting through a squeamish live-TV moment graciously.
"We came pretty close to something profound about what race is, and what it isn't," Hayes said. "Race is not a real thing. It is a social construct. It's not a blood type, not a fingerprint, not some biological thing that you can extract from someone. It's not something that's out there in the world.
"But at the same time," he continued, "racism, racial hierarchy, racial prejudice, those are all very real. That's the fundamental paradox of this whole thing. You can see someone across the room and think the wrong thing about what they are. But the perception about, quote, what race they are has massive consequences for everything from housing to incarceration to education."
"Which brings us back to part of the problem with our conversations about race, whether they're on cable news or over macchiatos," Hayes concluded. "We don't need to talk about race, which is not real. We need to talk about racism, which very very much is."
Watch the clip below, via MSNBC:
[Image via screengrab]
——
>> Follow Evan McMurry (@evanmcmurry) on Twitter
Have a tip we should know? tips@mediaite.com