HBO Pays Legit Rappers to Spit Hot Fire About Dragons to Promote Game of Thrones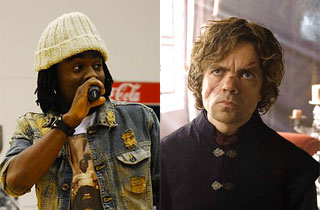 Come laugh with us at HBO's latest attempt to attract a multicultural audience to its fantasy series Game of Thrones, because it sounds so hamfisted: the Wall Street Journal reports that to promote the hit show's fourth season, the network will release a mixtape of Westeros-themed tracks by actual known rappers that hip hop fanatics actually recognize. Yeah, Wale, Common, Big Boi, Bodega Bamz, and a group of other rappers will lay down tracks about dragons and swords and incest and ice zombies and murders and did we mention dragons?
Wait, these are actually famous and renowned rappers. Big Boi is half of the legendary group OutKast. Common has a stack of Grammys. Wale has hits. Real hits. So why are you making them do this corny stuff? Really, just listen to the following cringe-y preview, including the lines "I'm tellin' whoever messin' with me/I can bring you that Khaleesi heat":
(Hint: the answer is that HBO paid these rappers an undisclosed sum of money, which could probably purchase enough ice to build a Wilding-proof wall .)
The mixtape will be called Catch the Throne, probably because the more fitting title was already taken by Yeezy and Hov, and, according to HBO, is part of their campaign to target minority households and get them to watch a series about "medieval-style mythical warfare." As part of this campaign, they trotted Common out to say something about how these Game of Thrones tracks are basically the second coming of Wu-Tang:
He compares the mixtape to records made in the early 1990s by Staten Island hip-hop collective Wu-Tang Clan, which featured audio samples of dialogue from 1970s Chinese action movies and references to Shaolin Kung Fu, an obscure martial-arts method associated with a Buddhist monastery in central China that Wu-Tang Clan brought into the mainstream.

"Twenty years ago, Wu-Tang was breaking ground," Common said in an interview. "Nowadays, people are open to anything. There are no limitations in hip-hop culture."
You know what would really attract minority households to purchase HBO and watch Game of Thrones? We're not sure, but we think it might involve not commissioning rappers to cram Game of Thrones references into really lame tracks in a blatant, racially tone-deaf bid to get more minorities interested in Game of Thrones.
(Also, we're pretty sure minorities watch Game of Thrones already — they probably just illegally pirate it like everyone else.)
— —
>> Follow Tina Nguyen (@Tina_Nguyen) on Twitter
Have a tip we should know? tips@mediaite.com