'He Doesn't Use Email': Trump Friend Talks About Trump's 'Old School' Way of Doing Things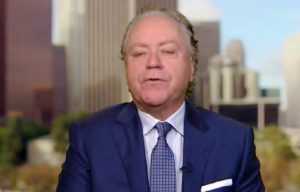 During an appearance on MSNBC this morning, Skip Bronson provided some insight into President-elect Donald Trump's transition to the White House over the coming weeks.
Bronson, who is friends with Trump, told host Stephanie Ruhle that he had spoken with Trump a couple of times since Election Day, including when it was obvious he had won.
Stating that it is still too early to really say how Trump's transition will go since it has only been 36 hours since he was elected, he did note that infrastructure is very important to the real estate mogul. At the same time, he wanted to point out how "old school" Trump is.
"He's old school in many ways," Bronson said. "As you mentioned earlier, I've spoken to him an average of once a week for the last 16 years."
"He doesn't use email," Bronson responded to Ruhle's question about what "old school" means. "For years, I've heard him say, 'I've seen businesses destroyed. I've seen marriages wrecked over email.' You can never email Donald and he will never email you."
Of course, one thinks about how much email played a role in the race, especially when it came to Trump's opponent Hillary Clinton. Besides the investigation into her private email server and the James Comey's letters that popped up at the end of the campaign, there were also the WikiLeaks dumps of Clinton ally John Podesta's hacked emails that were released daily in the weeks ahead of Election Day.
Watch the interview above, via MSNBC.
–
Follow Justin Baragona on Twitter: @justinbaragona
Have a tip we should know? tips@mediaite.com