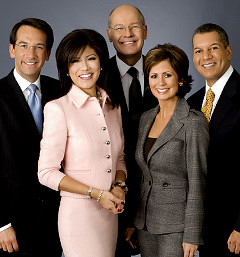 CBS' repeatedly revamped and ratings-challenged Early Show will be clearing the decks yet again. The AP's David Bauder reports anchors Harry Smith and Maggie Rodriguez, along with weatherman Dave Price, are all on the chopping block.
Weekend Early Show regulars Erica Hill and Chris Wragge are slated to become the new main duo. Marysol Castro will reportedly step into Price's role.
Bauder reports the changes go into effect January 3:

It marks the second big change to a morning team in a year, after ABC installed George Stephanopoulos as a co-anchor with Robin Roberts and added news reader JuJu Chang.

Smith had the longest tenure on "The Early Show." He was the sole survivor from 2002 when CBS installed a four-anchor team that included Smith, Hannah Storm, Julie Chen and Rene Syler. He also hosted a previous CBS morning show from 1987 to 1996. He'll stay at CBS as a news reporter and primary substitute on Katie Couric's evening news show and on "Face the Nation."
Wragge worked in sports, including a stint as a sideline reporter at events for NBC, until he made the jump to news in 2006. Beside his weekend job at CBS, he had been anchoring local news broadcasts at the network's New York affiliate, a job he'll give up to go national.

Hill, who came to CBS from CNN, briefly filled in for Rodriguez last year when Rodriguez was on maternity leave.
Price had strayed beyond the weather for other stories at "The Early Show." Most recently, the show left him in Alaska with $50 and challenged him to earn money for a return trip to New York, filming his adventures along the way.
CBS said Rodriguez and Price will continue with the network, but their future roles are unclear.
Have a tip we should know? tips@mediaite.com