Heated Ed Schultz Panel Explores Political Parallels Between Jeremiah Wright And Mormonism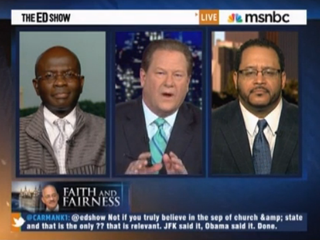 It is 2012 and the nation faces a brand new presidential election, but somehow Rev. Jeremiah Wright has become, once again, a focal point in the campaign, due in some part to a Super PAC proposal the New York Times dug up suggesting hammering that point into the political consciousness of voters. On last night's Ed Show, host Ed Schultz argued the fairness and relevance of bringing up Wright again, and how Mitt Romney may be exposing himself to attack over his Mormon faith if he allows his campaign to go after Wright.

RELATED: NYT Digs Up Super PAC Proposal Calling Obama A 'Metrosexual Black Abe Lincoln'

In his introduction of the segment, Schultz explained that "Jeremiah Wright has zero influence on President Obama," but somehow, these Super PACs and many in the media, particularly Sean Hannity, continue to push the story. Panelist Armstrong Williams insisted that "you have to separate the Super PAC from the candidates," however, and note that "Sean Hannity is not a candidate." While defending Romney, he was the first to bring up the question of whether Jeremiah Wright influenced President Obama, Romney's Church would be on the table too: "are we going to say just because he embraced the church he grew up in that he shares those [questionable racist] views [of the church]?"
Schultz called this the "key question," and Michael Eric Dyson agreed, saying that Mormonism was "absolutely" off the table. He explained that Wright was supposed to be "the bete noir, the big bad bully to force Barack Obama to kneel down before black liberation theology," which "is not a hateful theological position." To bring him up again, Dyson concluded, meant that "what's good for the loose is good for the slander."
"Romney is a gentleman and there is a certain respect in his campaign," Williams replied, which is why Wright hadn't become an official talking point. Schultz retorted that Romney had brought it up in an interview, in a way Schultz described as "almost coded messaging." Dyson and Schultz disagreed as Armstrong tried to make the point that he "repudiated" it.
The segment via MSNBC below:

Have a tip we should know? tips@mediaite.com