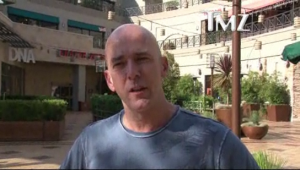 So, what changed the mind of Stephen Hanks, the man who got in a videotaped altercation with Bristol Palin over her mother's perceived demonic breathing powers and general whore-iness? After the video went viral, Hanks seemed to double down on his statements, but has now released a full apology. Was he persuaded to change his tune by the harsh glare of the media spotlight, the ton of hate mail and threats we can assume he received? Or maybe it could simply be that actually watching footage of oneself screaming in the face of a person half your age can be a rather sobering experience.
Whatever the case, it's a full 180 for Hanks, who released this statement through his lawyer:
"'Having had an opportunity to view the camera footage of the incident this past Thursday … , I have come to the conclusion that no matter what my feelings are towards Sarah Palin, I should not have expressed them towards her daughter, Bristol Palin,' Hanks said in a statement released by his attorney Tuesday.

'I am very passionate about politics, and believe in equality for all Americans,' Hanks continued. 'I expressed my feelings in an improper manner in the heat of the moment, and allowed my emotions to get the better of me.'"
Clearly Hanks has learned a valuable lesson. Don't say mean things about people you don't know. And, if you are going to say those things, don't say them about a celeb who has fans so passionate that they'll watch an entire season of Dancing With the Stars.
Those people are cur-razy.
You can watch the video of the original encounter below:
Have a tip we should know? tips@mediaite.com