Hedwig Creator: David Letterman 'Wouldn't Shake My Hand' After Drag Performance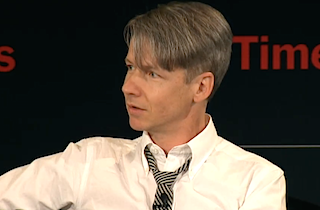 John Cameron Mitchell's Hedwig and the Angry Inch is finally on Broadway this year, more than 15 years after the drag queen-starring musical became a smash-hit Off-Broadway in the late '90s. But the warm reception it has received this time, complete with eight Tony Award nominations including Best Revival of a Musical and Best Performance by an Actor in a Leading Role in a Musical for Neil Patrick Harris, is quite different from the polarization it caused when it first appeared.
During a TimesTalk event with critic A.O. Scott Tuesday night, Mitchell and composer/lyricist Stephen Trask talked about what it was like to perform songs from the show on television during the show's first run. While someone like Rosie O'Donnell, who was not out yet, was extremely supportive of the musical, David Letterman hosted a performance on the Late Show but apparently refused to shake Mitchell's hand when it was over and prevented him from removing his wig at a key moment during the song.
"On David Letterman's show, we did the soundcheck and there was a voice from the booth that said, 'Could you please not remove your wig during the song?'" Mitchell said at the Times event. Instead, he said he removed his wig at the end of the song, but they show cut it out of the broadcast. "They wanted people to think I was a woman," he said. "And David wouldn't shake my hand."
"Not that we don't love David Letterman," Trask added.
"I love David Letterman," Mitchell said through fake tears. "I wanted to touch him."
Neil Patrick Harris recently appeared on the Late Show to promote the Hedwig revival, and while things seemed perfectly comfortable between him and the host, he did not perform on the broadcast. But there's no reason to think Letterman's alleged transphobia persists to this day.
We've come a long way as a country over the last two decades, and presumably so has the Late Show host. For one, CBS reportedly offered Letterman's job to the openly gay Harris before he turned them down and it went to Stephen Colbert.
Watch video below, via The New York Times (Letterman story begins at 1:05:50):
We couldn't track down that original Letterman performance, but we did find the one from The Rosie O'Donnell Show. Watch it below, via YouTube:
[h/t HyperVocal]
[Photo via screengrab]
— —
>> Follow Matt Wilstein (@TheMattWilstein) on Twitter
Have a tip we should know? tips@mediaite.com