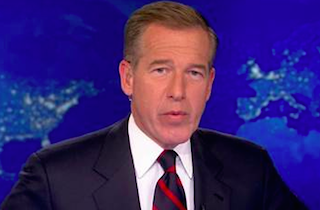 As the media continues to speculate about what will happen to NBC Nightly News anchor Brian Williams in the wake of revelations about an exaggerated Iraq war story he has been telling for years, the pilot of the helicopter he falsely claimed was shot down by and RPG has spoken out about what really happened to CNN's Brian Stelter.
According to Rich Krell, who piloted the Chinook helicopter in which Williams was riding during the Iraq invasion in 2003, the vehicle did receive enemy fire, just not from an RPG. He also said there were just three helicopters flying together — with his being the middle one — and not four as Williams previously stated. It was the "first bird" flying out in front that was struck by the RPG and forced to land.
"Some of things he's said are not true. But some of the things they're saying against him are not true either," Krell told CNN, noting that the bridge expansions it was carrying "took most of the hits" during the attack. He said his helicopter dropped off the cargo it was carrying and met up with the other helicopters 45 minutes later, explaining the reports from crew members of the 159th Aviation Regiment who said Williams "arrived in the area about an hour later on another helicopter" after they were forced to make an emergency landing.
But Krell description of the helicopter taking fire disputes the accounts given to Stars and Stripes claiming that Williams was "nowhere near that aircraft or two other Chinooks flying in the formation that took fire."
"Yeah, he messed up some things and said some things he shouldn't have," Krell said of Williams. "I [first] heard it a few years ago…. Actually one of my flight engineers said, 'Did you hear him say that? Wasn't he on our bird?'"
But he apparently was not terribly offended by Williams exaggerations, saying, "After a while, with combat stories, you just go 'Whatever.'"
In his original Dateline report on the incident, Williams correctly said, "On the ground we learn the Chinook ahead of us was almost blown out of the sky." But in the years since, he began to claim that he was riding in the helicopter that was hit by the RPG.
During a 2013 appearance on the Late Show with David Letterman, Williams told the story this way: "Two of our four helicopters were hit by ground fire, including the one I was in — RPG and AK-47. We landed very quickly and hard. And we put down and we were stuck. Four birds in the middle of the desert, and we were north out ahead of the other Americans."
That same year, he told Alec Baldwin in a radio interview that he believed he was going to die during the alleged attack.
Watch Williams' on air apology video below, via NBC News:
[Photo via screengrab]
— —
>> Follow Matt Wilstein (@TheMattWilstein) on Twitter
Have a tip we should know? tips@mediaite.com