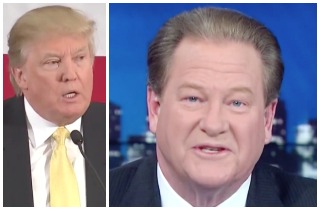 MSNBC's Ed Schultz today praised and defended Donald Trump and called his business record "unparalleled" in comparison to the other Republican presidential candidates.
Just let that soak in for a second.
Trump was at a Republican summit over the weekend and went off on Republican attempts to cut Social Security, Medicare, and Medicaid. Schultz played that clip and said Trump was "100 percent right."
But he didn't stop there, because first, Schultz said Trump sounds like someone "willing to work with the other side," and secondly, he actually defended Trump's business record:
"I know everybody thinks that Trump is a joke [ed. note: yes] and he jumps in front of the parade all the time and is a carnival barker and all that kind of stuff, but if it is about the economy, he's created more jobs than any of them, than all of the candidates put together. He's done more deals, he's signed more contracts, he has the business experience, he's the guy who's taking the risk, he's the guy who has been successful. I mean, Trump's business experience, compared to the rest of the Republican field, is unparalleled, so why don't they listen to him?"
Yes, that's MSNBC's Ed Schultz asking why more Republicans aren't listening to Donald Trump.
It was only a few years ago that Schultz said, on the air, "I think Donald Trump is a racist" (in reference to Trump wanting to see President Obama's college transcripts). And mere months later, he was practically celebrating the end of Trump's faux-2012 debate plans, calling him a "total loser [and] all-American zero."
It's worth noting that Trump (as of now) is still the host of NBC's Celebrity Apprentice, and Schultz of course works at that network's corporate sibling.
Watch the video below, via MSNBC:
[image via screengrab]
— —
Follow Josh Feldman on Twitter: @feldmaniac
Have a tip we should know? tips@mediaite.com
Josh Feldman - Senior Editor