"Hello K-9!?!" Massachusetts Family Calls 911 After Getting Lost In Corn Maze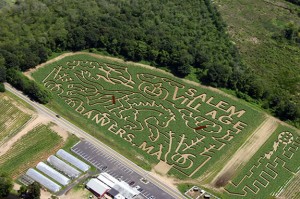 Ahhhh, Autumn. A time to admire the changing foliage, carve some pumpkins, and get lost in corn mazes…. really, really lost in corn mazes. A family in Danvers, Mass., carrying a three-week old, found out the hard way that corn mazes aren't to be taken lightly — especially as night falls — as they frantically called 911 when they couldn't find the exit at the seven acre corn maze at Connors Farm:
A K-9 unit arrived, and the dispatcher had the family yell out, "Hello K-9!" several times so the officers could locate them. It turned out the family was just 25 feet in.
"It took us about a minute, minute and a half to find them," Rich Potter of Connor's Farms told Boston's WHDH.
Potter said that there were still workers at the farm, but nobody heard shouts for help. Barstool Sports has audio of the entire call, and if you have seven minutes today, there is probably nothing more entertaining for your ears. The repeated calls of "Hello K-9!" alone are worth it. Thankfully, for the sake of their Facebook pages, the names of the callers have not been released.
For those interested and in the Danvers area (just 20 minutes north of Boston, it might be a nice place to go on a date with someone you met at Occupy Boston), Connors Farm charges $8.50 for admission to the maze, and it will remain open until Oct. 31. Potter suggests writing down the number of he main office to call instead of 911 in case you get lost.
Have a tip we should know? tips@mediaite.com