'Her Spouse Is Crazy!': Ana Navarro Fires Back At Trump Surrogate Over Melania Speech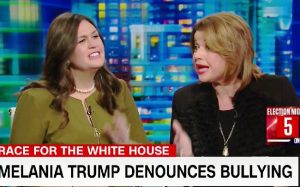 During a panel discussion on CNN tonight, political commentator Ana Navarro pushed back against Trump surrogate Sarah Huckabee Sanders when Sanders tried to paint what Navarro was saying as an attack on Melania Trump.
As you may recall, Mrs. Trump made a rare speech on behalf of her husband today near Philadelphia and made some waves by bringing up cyberbullying as an issue she'd like to address as First Lady. Of course, this led to much mockery due to Donald Trump's history on Twitter, which led to the New York Times publishing all of his attack tweets in a two-page spread.
While talking about Melania's speech, Navarro joked that perhaps she should focus on her husband and maybe put "a little melatonin in his nighttime milk" to prevent his notorious 3 AM tweets.
Host Don Lemon also chimed in, highlighting how Donald Trump's retweet of Heidi Cruz would be considered the textbook definition of online bullying.
Sanders took the conversation to be as critical of Mrs. Trump, saying that "instead of attacking Melania, why aren't we talking about the real epidemic of cyberbullying."
Navarro replied that she didn't think they were attacking Melania and called her a "class act." However, she did have some words about Donald.
"I think she is loving and supportive of her spouse," Navarro explained. "That being said — her spouse is crazy! And he tweets crazy stuff in the middle of the night! And that's not normal!"
Sanders said that Navarro saying Donald Trump is crazy is the reason why he attacks people on Twitter. Lemon and Navarro both informed her that presidential candidates don't normally shoot off mean tweets at everyone who insults them because they're "running for the highest office in the land."
Watch the clip above, via CNN.
[image via screengrab]
–
Follow Justin Baragona on Twitter: @justinbaragona
Have a tip we should know? tips@mediaite.com