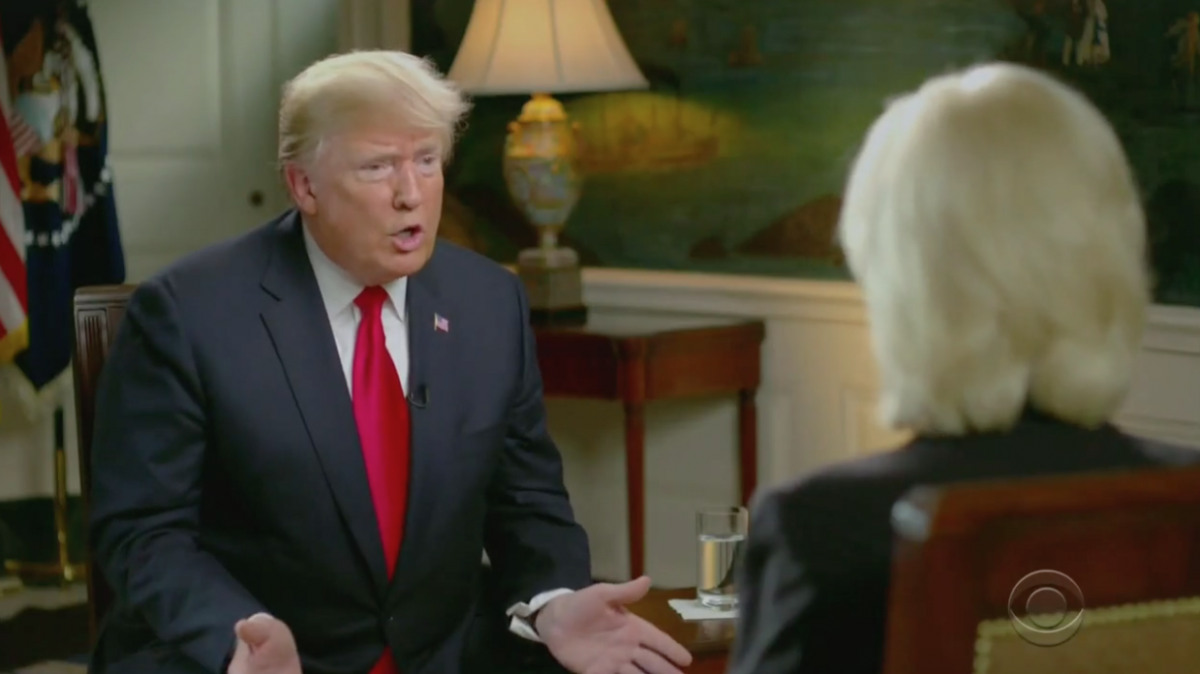 President Donald Trump's extensive interview with Lesley Stahl for 60 Minutes was jam-packed with news, sure to set the tone for the week in Washington.
The interview touched on a broad range of topics, ranging from the Brett Kavanaugh confirmation saga to the Robert Mueller investigation and his approaches to controversial policies. Trump defended himself from various criticisms and had several contentious moments with Stahl in the process.
To boil it down for you, here are some of the biggest highlights and takeaways from the entire interview.
1. Is Climate Change a Hoax?
After years of claiming that the notion of climate change is a "hoax," Trump backed away from that characterization on 60 Minutes. Trump said he remains skeptical about human impact on climate change, however, which led to a back and forth about things like the impact of global warming and whether his administration intends to do anything about it.
The segment ended with Trump disputing the scientific community's majority consensus about human impact on the environment, saying "they have a very big political agenda."
2. Possible Retaliation Against Saudi Arabia Over Jamal Khashoggi
Trump was asked how he plans to deal with Saudi Arabia if it turns out they were responsible for the disappearance of Jamal Khashoggi, the journalist and Saudi dissident who vanished inside their consulate in Istanbul. Trump warned that the Saudis will face "severe punishment" if found responsible for the disappearance and death, although he was reluctant to explain whether it would happen in the form of sanctions or some other kind of retaliatory penalty.
"They deny it every way you can imagine," Trump said. "We're going to get to the bottom of it, and there will be severe punishment."
3. "We've Been the Stupid Country"
Trump spent a good portion of the discussion defending how he handles international economics and foreign policy. This touched on his trade war policies and demands for more joint defense funding from America's allies. He once again commented on how America has been a "stupid country" to have not gone down this path sooner.
"We have wonderful relationships with a lot of people. But nobody treats us much worse than the European Union," said Trump. "We've been the stupid country for so many years. We shouldn't be paying almost the entire cost of NATO to protect Europe…"
4. On Falling "In Love" With Kim Jong Un
One of the best exchanges of the interview came when Trump defended himself from Stahl's questioning about how he could possibly say he "fell in love" with Kim Jong Un. As Trump bragged about his "good chemistry" with Kim, Stahl went through a list of the North Korean dictator's crimes, asking Trump "This is a guy you love?"
5. Trump Defends Separating Migrant Families on Southern Border
Stahl asked Trump if he had any regrets at all about his presidency, which spiraled into a spat about his now-revoked policy of separating migrant children from their families at the southern border. This led to a heated exchange as Trump defended the policy but wouldn't say whether he'd consider starting it up again.
Stahl tried to diffuse the exchange by saying she didn't want to fight with the president, and Trump snapped back: "I'm president and you're not."
6. Vladimir Putin, Election Interference, and Robert Mueller
Of course, Trump faced the inevitable questions about why he can never say a bad thing about Vladimir Putin, and if he accepts the intelligence findings saying Russia meddled with the 2016 election. Trump argued that he's been quite tough on Putin and Russia, and there was a contentious moment where Stahl accused him of "diverting the whole Russia thing" in order to talk about China's supposed interference.
"Do you really think I'd call Russia to help me with an election? Give me a break," Trump said. "They wouldn't be able to help me at all. Call Russia. It's so ridiculous."
7. Trump on Democrats: They Don't Want the Country to Heal
In one portion of the interview, Trump refused to take responsibility for the divided state of the country, and instead suggested it's all the Democrats' fault.
Stahl brought up Trump's frequency to attack Democrats during national moments where he could've chosen to make statements that would've helped unify the country. This turned to an exchange about how "unfair" Democrats were to Brett Kavanaugh, and Trump said, "I don't think they want to heal yet, I'll be honest."
Trump finished by bringing up Hillary Clinton's recent, "nasty" statement, while insisting "I do want to heal."
8. Trump on Mocking Christine Ford: "It Doesn't Matter. We Won"
Stahl grilled Trump on how he treated Christine Blasey Ford during a campaign rally in which he made fun of her sexual misconduct allegations against Kavanaugh. Trump insisted he treated Ford respectfully, and he ended up changing the subject by saying: "I'm not gonna get into it because we won. It doesn't matter. We won."
9. The Uncertain Futures of Jeff Sessions and James Mattis
Trump seemed to suggest that Attorney General Jeff Sessions and Defense Secretary James Mattis might not last much longer in his administration.
Trump expressed renewed disappointment in Sessions and while he said no one should assume his imminent firing, he left the door open by saying "we'll see what happens come midterms." The president took a similar tone with Mattis later on, calling the Defense Secretary "sort of a Democrat," saying there are people in his cabinet he's not happy with. He also hinted that other people will inevitably leave his administration.
Trump also made a remarkable statement when asked about Mattis' views on NATO: "Frankly, I like General Mattis," Trump said. "I think I know more about it than he does. And I know more about it from the standpoint of fairness, that I can tell you."
10. New York Times and the Anonymous Op-Ed Writer
Trump denied that his White House exists in a state of perpetual chaos. This came in in response to questions about the New York Times op-ed from an anonymous government official who described an inner-resistance to the president's worst ideas and most volatile tendencies.
Trump insisted that the op-ed could have been written the the Times, an idea met with a smirk from Stahl. He continued to rant for the umpteenth time about how "dishonest" the paper is.
Watch above, via CBS.
[Image via screengrab]
— —
>> Follow Ken Meyer (@KenMeyer91) on Twitter
Have a tip we should know? tips@mediaite.com