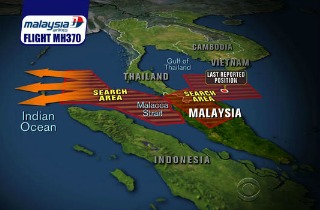 With a week having passed since a Malaysian passenger plane went missing, authorities are now considering the potential that the plane was hijacked. Investigators now believe that the plane's tracking transponders were intentionally disabled and the plane deviated from its planned course, turned West over the Strait of Malacca, and continued to fly or several hours.
Officials believe that the plane, which continued to "ping" satellites for hours after the transponders were disabled, did not crash in the vicinity of Southeast Asia. "If the plane had disintegrated during flight or had suffered some other catastrophic failure, all signals — the pings to the satellite, the data messages and the transponder — would be expected to stop at the same time," ABC News reports.
Malaysian officials have now expanded the area in which they are searching to a vast geographical region ranging from the South China Sea to South Asia and the Indian Ocean.
Sinister theories are beginning to emerge as to where the plane and its 239 passengers may be, and to what purpose that plane could be used if it were hijacked. There remains, however, the possibility that the plane suffered a "cascading electrical failure" or that the plane was intentionally sabotaged.
RELATED: 'Where Is This Plane?': Don Lemon Really Wants to Know What Happened to Missing Jet
United States Air Force Lieutenant Gen. Thomas McInerney, appearing on Fox News Channel on Friday, says he did believe the plane was hijacked and speculated that this plane may have landed at runways in Pakistan or Iran. "I could envision that terrorists could use it, fill it up with explosives, attack a U.S. aircraft carrier," he said. "Put a nuclear weapon – a prototype on it – hit Israel, the United States."
"No one is just going to steal an airplane," he continued. "You can buy them."
Watch the clip below via Fox:
However, appearing on CNN on Friday, former CIA Director Gen. Michael Hayden said that he an operation of that scale would have been preceded with "chatter" in known terrorist networks. He added that, to his knowledge, no such chatter has been picked up by Western intelligence agencies.
Watch the clip below via CNN:
[Photo via CBS News ]
— —
> >Follow Noah Rothman (@NoahCRothman) on Twitter
Have a tip we should know? tips@mediaite.com