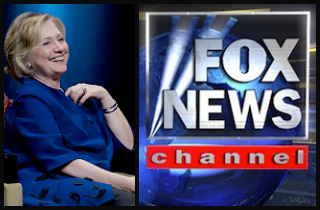 It's safe to say Hillary Clinton is the most coveted interview in politics right now.
She leads Democratic primary polls by a country mile and general election polls by a comfortable margin. Of course, not one major candidate—Clinton, Elizabeth Warren, Joe Biden, Andrew Cuomo, Rand Paul, Paul Ryan, Jeb Bush, Marco Rubio, Ted Cruz, Scott Walker, Chris Christie, Ben Carson—have even declared their intentions yet (nor should they). But even years out, speculation around a presidential election is the bread and butter of cable news political coverage. For any producer, it's quite possibly the easier block to put together: Find a few polls, book a few talking heads to debate and speculate, and it's done. And as you've probably noticed, it's done in some capacity on MSNBC, CNN and Fox on a very regular basis.
When Mrs. Clinton decided on Fox News as her first cable news destination to promote her new book, Hard Choices, the first thought here was the reaction at 30 Rock. As an objective viewer has seen, MSNBC rarely criticizes the former Secretary of State and mostly defends her on just about every topic (questions around her health, age, handling of Benghazi, etc.)…all while demonizing almost every potential Republican opponent in the process. It's a replay of the coverage President Obama received by the network in election years 2008 and 2012, the latter of which just happened to be the network's most successful year (from a ratings perspective) in its history.
So when the news broke of Greta Van Susteren and Bret Baier landing Hillary for a joint interview on June 17—the first for the book tour on any cable news outlet—MSNBC anchors, producers and executives alike must have been mumbling something to the effect of, "Exactly what do we have to do to get some love around here?" Because this isn't first time this year a major Democratic figure has opted for Fox over MSNBC, as President Obama sat down with Bill O'Reilly on Super Bowl Sunday (Note: Fox was carrying the game, but it still had to make some eyes roll over at The Place for Politics when considering Mr. Obama didn't grant an interview with, say…Rachel Maddow when NBC carried the game back in 2012).
Another reason why MSNBC must find it odd to not be first choice comes from a political-landscape perspective. It's no secret Mrs. Clinton isn't exactly embraced by the hard left. She voted for the Iraq War, voted for the Patriot Act twice. She's seen as another establishment candidate, more of the same, and one that wouldn't lower the boom on Wall Street excess the way an Elizabeth Warren would. Some say Warren (if she runs) is no true threat to Clinton. But then again, neither was then-Senator Obama at this stage (May of 2006) of the 2008 race, either. If Clinton wants an easy time in the primaries and emerge with the fewest bruises possible, shoring up her left flank might be a good idea. And the first place you go to start that process—at least from a television perspective—is MSNBC.
So in speaking to Fox first, Hillary signals to be looking ahead at the general election (again, if she runs). This is one time when the all-important key demo (25-54 in the world of cable) doesn't come into play. Fox beats its competition handily in said demo, but the margin can extend to 4/5/6-to-1 when looking at total viewers, where age obviously isn't taken in account. If the goal is a move to the political center while showing she can tackle tough questions—questions she likely wouldn't receive if Chris Matthews' interview with President Obama in 2013 is any indication—Mrs. Clinton made the correct call in choosing Fox.
Broadcast journalism is all about the big get.
Brian Williams got one recently with Edward Snowden.
Anderson Cooper landed Donald Sterling.
Now it's Greta Van Susteren and Bret Baier's turn with Hillary…
And to think, the general election is still 892 days away.
— —
>> Follow Joe Concha on Twitter @ConchaMedia
Have a tip we should know? tips@mediaite.com