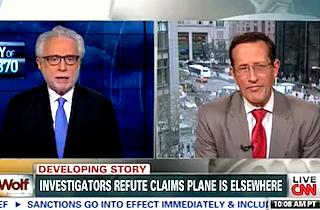 CNN made it six minutes into their 1 p.m. news hour Tuesday afternoon before turning to flight MH 370 — not bad for a network with a two-pack-a-day habit — but that was all it could muster: for the following fourteen minutes CNN breathlessly covered the latest in the search, which today meant refuting the report they broke yesterday that the plane could be "elsewhere." Sample chyron: "Investigators refute claims plane is elsewhere."

For contrast's sake, here's everything Al Jazeera America covered in that fourteen-minute span:
The corporations that have pulled sponsorship from the Clippers following the Donald Sterling controversy.
The situation in Ukraine, both Obama's new round of sanctions and the eastern Ukrainian mayor who was shot in an assassination attempt yesterday.
An extended segment on the Middle East peace talks, featuring interviews with a chief Palestinian negotiator and an Israeli spokesperson.
An report on gunmen storming Libya's parliament.
An entire commercial break.
An in-depth segment on today's privacy cases in the Supreme Court, featuring interviews with expert from the Constitutional Accountability Center and a law professor from Vanderbilt University.
Note that AJAM managed to fit in an entire commercial break and still beat CNN's story total 5:1. Even if you're generous and knock off the segment on Sterling (which was how CNN spent its first six minutes), you're still left with a 4:1 ratio.
This is part of Mediaite's recurring segment, "Look at all the stuff Al Jazeera can cover while CNN blathers on about a missing plane."
Watch the first half of Al Jazeera's coverage below:
[Image via screengrab]
——
>> Follow Evan McMurry (@evanmcmurry) on Twitter
Have a tip we should know? tips@mediaite.com