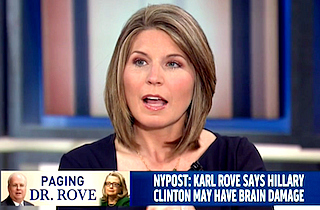 At a recent press conference in California, former George W Bush strategist Karl Rove hypothesized that presumed 2016 presidential candidate Hillary Clinton might have suffered "brain damage" from a blood clot received in a 2012 fall. "Thirty days in the hospital?" he said. "And when she reappears, she's wearing glasses that are only for people who have traumatic brain injury? We need to know what's up with that."

The comments drew a sarcastic rebuke from Clinton's people, were called "reprehensible" and "over the line" by CNN's John King Tuesday morning, and were pilloried by a Morning Joe panel, which wondered how well Rove did in medical school and where to grab a pair of those brain-damage specs.
But then former Bush director of communications Nicolle Wallace showed exactly what Rove had in mind when he made the bizarre remarks, as she simultaneously walked back the extremity of his theory while retaining its implications:
This, I think, is a strategy. He may have been trying it out on behalf of the party, on behalf of the eventual nominee. While his comments may have been off, her health — regardless of why she was in the hospital or whether she was in the hospital — questions about a candidate's health are not only legitimate, they are always part of a presidential campaign.

…Listen, voters are smart enough to cancel out anything that's either wrong or over the line. So if you overreach with questions about health, the voters actually I think make a correction for that. But the notion that she isn't going to have to answer questions, even in a Democratic primary about what she went through, is ludicrous. Of course she will.
By the end of those comments, the outlandishness of Rove's original conjecture is wafting away while the panel is talking about Clinton's age and health. What are the odds that that segue was exactly Rove's plan in "overreaching?" And how little does Rove care that he's going to be the butt of one news cycle while ensuring that Clinton's health will be continually introduced into televised conversation under the guise of talking about his gaffe?
Watch the clip below, via MSNBC:
[Image via screengrab]
——
>> Follow Evan McMurry (@evanmcmurry) on Twitter
Have a tip we should know? tips@mediaite.com