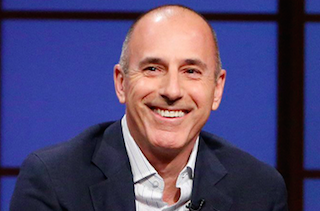 NBC really wants to keep Today host Matt Lauer on board after recent rocky patches and Ann Curry's departure from the show in 2012 — so much so that they pay for his helicopter rides to and from his mansion in the Hamptons.
According to a report in Page Six, Lauer's $20 million per year deal agreed to in June includes a provision in which NBC foots the bill for Lauer's lavish commute to and from his $15 million home and 40-acre horse farm.
A source told Page Six:
"NBC News chiefs want to do everything to keep Matt happy. They believe 'Today' has turned a corner and he is the key to its continuing success."
The move was also reportedly an effort to help Lauer spend more time with his family.
Lauer is no stranger to these types of ideas. In fact, he delved into the very issue of balancing professional life with family time. The Today host ignited a media firestorm in June when he asked GM CEO Mary Barra if she can still run GM and be a good mother at the same time.
June was also the same month Lauer agreed to terms with NBC on the $20 million per year contract through 2016. This could be a coincidence, or it could be an effort on NBC's part to help Lauer do the very thing he wondered was even possible of Barra.
[h/t Page Six]
[Photo via NBC]
— —
>> Follow Andrew Desiderio (@forza_desiderio) on Twitter
Note: Mediaite intern Andrew Desiderio is a student at The George Washington University.
Have a tip we should know? tips@mediaite.com