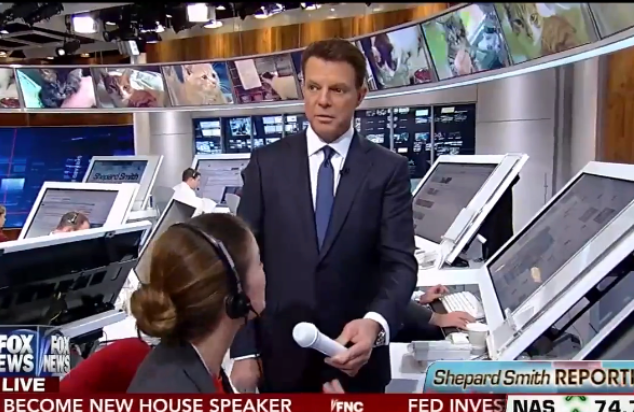 Sometimes it can be hard to fill the cable news cycles with meaningful content. But surely, as a new Speaker of the House rises and campaign debate negotiations stir, there must be something better to fill the mid-day broadcasts with than whatever Shep Smith did Monday afternoon.
On Shep Smith Reporting, a conversation on U.S. companies engaging in Chinese trade awkwardly segued into a story about cat behavioral traits that many media outlets felt the need to likewise cover today.
Fox Business' Jo Ling Kent, a graduate of the London School of Economics who has earned two Master's degrees in international affairs, followed up her segment by facing the only logical question suitable for her time and talents: "Do you have a cat, Jo?"
"I do not have a cat, I'd like a cat though."
Smith continues "According to a new study, everything you've thought about cats is true. They are in fact plotting to kill you." Smith seems to slap his papers against the desk in a moment of why-the-f*ck-am-I-doing-this-story. Kent meanwhile stares deeply into the lens, unsure of how her well-presented take on IBM-Chinese relations came unhinged so quickly.
"I'm gonna go over here and talk to Lillian about it, Lillian likes pets, I know this, I know this," says Shep as he slides across the room to Associate Producer Lillian Wilson, who apparently doubles as the show's resident Cat Correspondent.
While most news organizations recognize that the world toils in peril and we inch closer to electing our next President, Reporting rolled a video of a playful kitty as recorded by an unnamed colleague. Finally, the salmon meat of the story from Wilson: "Researchers from the University of Edinburgh in the Bronx Zoo looked at different feline personality traits and domestic cats and African lions were strikingly similar."
The master shot of the scene then quickly catches what is possibly a full-on corner-to-corner eye roll from the show's host. Wilson continued:
"We're learning a lot about the feline domestic cat brain. Just last year they said that the cats think of us as big, hairless, stupid cats who are non-hostile and are just roommates."
As if the segment needed any more coal to be shoveled on top of its smoldering wreckage, Shep Smith managed to toss in the only thing missing from the conversation: a casual reference to 9/11.
"I've told you about Sasquatch, my cat from after 9/11."
I won't give away the details of the story, but I can tell you that the line,"It had six toes and it tried to kill me," was definitely spoken at one point.
In case his foray into feline news did not go over so well, it is as if Smith had his next story firmly locked in his sights. He quickly transitioned away from cats to — and this is transcribed verbatim — his next target:
"Selling weed could bring in millions of money for the former boy band guy Nick Lachey."
[image via screengrab]
—
>> Follow J.D. Durkin on Twitter (@MediaiteJD)
This is an opinion piece. The views expressed in this article are those of just the author.