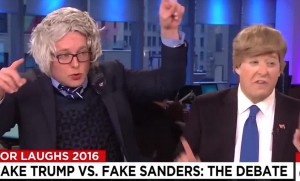 A Bernie Sanders/Donald Trump matchup looks less impossible than it ever has before. And even though we still have months of primaries to slog through before we get our first presidential debate, thanks to two comedians we can watch a sneak preview of that great showdown.
James Adomian and Anthony Atamanuik are two performers who have built their scarily good impressions of the candidates into a remarkable comedy routine, pitting Adomian's tempestuous, percentage-obsessed Sanders against Atamanuik's shrewdly subdued and smug take on Trump.
The pair have taken their act, which appeared originally at the Upright Citizens Brigade Theatre and other New York City venues, to the road with a national tour.
Adomian and Atamanuik appeared on CNN Friday afternoon, phasing in and out of character, much to the amused consternation of host Brooke Baldwin.
"I see it as an act of comedic activism," Atamanuik said. "I want to take everything Trump said and bring it to its final point. So when he's talking about immigrants, I want to take it further to show people what he's really talking about." Satire can barely keep up with reality in this case. He claimed that material he had performed months ago manifested itself in the increasingly fraught campaign.
The comedians closed out the segment by addressing their respective counterparts in character.
"I think Donald Trump would not be proud of my impression," Atamanuik said. "Donald, if you're watching, I want to meet you, please. Let's talk in a mirror."
"Bernie, look, let's get in some hard numbers," Adomian said. "I want to sit down with you and go ahead and read the Trans-Pacific Partnership back and forth to each other. It will be romantic."
A preview of the Trump v. Bernie 2016 Tour
Live at the UCB Theatre in New York City
——
Follow Sam Reisman (@thericeman) on Twitter
Have a tip we should know? tips@mediaite.com