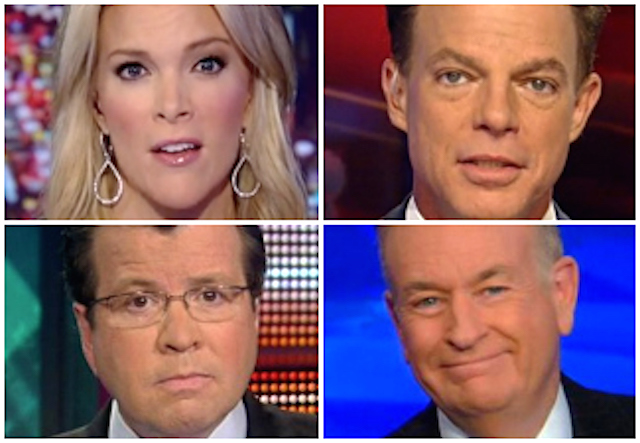 You can see and hear the quickie five-second advertisements now:
"You're watching the network more Americans trust for news than any other: Fox News Channel."
Ok… now I know this is virtually impossible for some of you to accomplish but, pretty please, put aside your hatred or love (and apparently there is no in-between) for Fox News for the remainder of this otherwise-benign, inside-baseball column. This is not about ideology or red vs. blue. Instead, this piece will explore why Fox wins the trust competition by a comfortable margin (outside of execution and offering an alternative) from a perspective we don't hear about often.
First question before getting to that perspective: What is a major component for building trust? Answer: Time. Now… CNN has 16 years more time on the air than Fox News, but that's not the kind of time being referred to. Instead, the focus here is on the amount of time its network talent (anchors, hosts, personalities, pundits) has been on the air, and the role that plays in Fox building trust with its viewers. The stories and narratives change every day, of course. But when looking at the other networks, and this includes those listed in the aforementioned Quinnapiac poll that includes the Big Three Networks (ABC, NBC, CBS), you know what doesn't plague Fox News?
Turnover.
Sure, some on-air folks leave from periodically, but none the network would consider indispensable. Major Garrett, for example, is a major talent…as solid a White House Correspondent for CBS as he was for Fox, but not indispensable as Ed Henry is showing. Same goes for Alisyn Camerota, who is an exceptional morning host and is doing a fine job at CNN. But the staples of the network? They never leave…and are just as loyal to the network as its audience is to them.
Think about who's been with the network for over a decade (or even since its inception in 1996) from morning to closing time: Kilmeade, Doocy, Hemmer, MacCallum, Jon Scott, Shep Smith, Cavuto, Baier, Van Susteren, O'Reilly, Megyn Kelly, Hannity. Throw in the pundits who are just as important and ubiquitous: Krauthammer, Juan Williams, Kirsten Powers, Brit Hume, Geraldo and it's the same deal…Fox viewers trust what they're hearing because all of the aforementioned have been in their living rooms for so long.
Now compare that to CBS, NBC, and ABC. The anchor chair — with the exception of NBC until recently — seemingly is always changing. The days of Cronkite, Mudd and Brinkley and the longevity of the position are over. ABC alone, for instance, has showcased five anchors in nine years for World News Tonight after Peter Jennings occupied the chair for 22 years prior. On the cable news side, MSNBC is MSNBC…third place and on the verge of a leadership change once new NBC News Chairman Andy Lack gets his office in order. As for CNN, the network scored higher than the broadcast networks in terms of trust (22 percent to FNC's 29 percent) and still does some fine reporting at times (breaking the VA scandal last year, for example) when it doesn't go into all-in mode on you-know-what. But because it takes a somewhat-centrist approach, it therefore doesn't earn the one thing Fox owns more than any other network:
Loyalty.
One of the primary reasons Fox earns the trust marks it does is because of general distrust in the rest of the media. The whole ballgame has been a steep downhill slope since the good old days of 1974, when Gallup found an incredible three in four Americans trusted the media. That number is down almost 35 points now, with opinion journalism disguised as straight news sparking said mistrust. Agendas–perceived or otherwise–rule more than who, what, when, where, why and how.
Despite being well out in front of CNN and MSNBC for well over a decade, Fox somehow manages to portray itself as the underdog via an Us vs. Them mentality. It's core audience seemingly feels obligated to march along in the fight. Instead of familiarity of the many longtime hosts breeding contempt, it breeds a bond that can be found only in a few other places: The Howard Stern Show (where listeners were so loyal to the program, they actually followed him from terrestrial radio to a pay model on satellite by the millions) and Jon Stewart's Daily Show, where it felt downright like a funeral (even Stewart noticed it) upon announcing his retirement from the show.
Sometime very soon, Fox will tout this latest poll on its air in quick bumps/ads or on billboards surrounding its studios on 48th and 6th in Midtown Manhattan (or both). Trust is a product of familiarity and time. Fox executes well, yes. Fox offers an alternative, sure. But the one thing it has going for itself is one aspect rarely discussed:
All the big players on the air simply don't leave, nor seem to be inclined to.
Loyalty given. Loyalty returned.
UPDATE — Thurs., March 12, 1:00 p.m. ET: Fox is now running promos touting the "most-trusted" study findings:
— —
>> Follow Joe Concha on Twitter @JoeConchaTV
Have a tip we should know? tips@mediaite.com