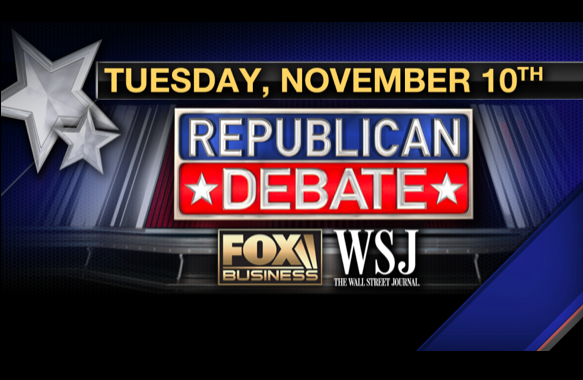 Fox Business hosts Neil Cavuto and Maria Bartiromo are set to moderate tonight's GOP Debate from the Milwaukee Theater in Milwaukee, Wisconsin. Wall Street Journal's Editor-In-Chief Gerard Baker will also be moderating. The debate pool will again be split into an undercard portion at 7 p.m. EST and the top eight candidates will take the stage for the main event at 9 p.m. EST.
The candidates chosen for Tuesday night's main event had to qualify at 2.5% or high according to a series of recent polls that included one from NBC/WSJ and the controversial Investor's Business Daily/TIPP poll.
The son of Rupert Murdoch — James Murdoch — who is also the CEO of 21st Century Fox said of the debate, "We think it's really a great opportunity to showcase and differentiate Fox Business in terms of depth, quality and production."
The undercard candidates debating at 7 p.m. are:
New Jersey Governor Chris Christie
Former Arkansas Governor Mike Huckabee
Louisiana Governor Bobby Jindal
Former Pennsylvania Senator Rick Santorum
The mainstage candidates debating at 9 p.m. are:
Donald Trump
Dr. Ben Carson
Florida Senator Marco Rubio
Texas Senator Ted Cruz
Former Florida Governor Jeb Bush
Carly Fiorina
Ohio Governor John Kasich
Kentucky Senator Rand Paul
For the first time in this primary season, GOP contenders Governor George Pataki and South Carolina Senator Lindsey Graham did not qualify to make the stage at either debate. Neither did former Virginia Governor Jim Gilmore.
A special post-debate edition of Cavuto: Coast to Coast will air immediately following the second debate at 11:00 p.m. EST.
Find out how to watch the debate live online
here
, and check back for Mediaite coverage throughout tonight's events.
[Photo via FBN screengrab]
Have a tip we should know? tips@mediaite.com