Here's Your Hits & Misses Report Card From MSNBC's Memorable Democratic Debate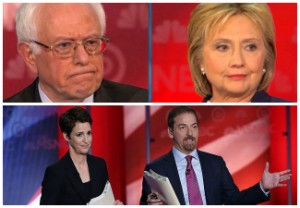 MSNBC hosted its first Democratic debate of the campaign season Thursday night with some conditions favorable and not-so-favorable in terms of content and ratings potential. The result was a robust, compelling, passionate exchange between the only two candidates left on the Democratic side in Hillary Clinton and Bernie Sanders.
As is tradition in this space, let's hand out the usual (riveting) report card:
MSNBC's presentation: B+. This grade includes the performance of the moderators in Chuck Todd and Rachel Maddow. In this regard, Todd gets an A- and Maddow a B+. Both Chuck and Rachel's questions were pointed, diverse and most importantly, fresh. My one small criticism on an otherwise-smooth production itself: The closeups were a bit too …well …close-up. It's understood the need to capture emotion, but we don't need heads filling the entire screen.
Back to the questions, the moderators were on their game: Todd asking Clinton about releasing the transcripts of her Goldman Sachs speeches was one yet to be asked, which caught the candidate off guard with her answer being a weak, "I'll look into it." Maddow's question to Clinton about whether it was a good idea to privatize the V.A. or not was also one likely not expected, nor was the one she posed to Sanders comparing him to Barry Goldwater and George McGovern in terms of the challenges that comes with his distance from the center. But where both really shined was their understanding that the candidates were ready to engage with only limited, restrained direction and inquiries from themselves, the moderators.
Note: Maddow would have also scored an A- but for whatever reason felt compelled to hug both Sanders and Clinton at the end of the event on live television with millions watching. Was it the biggest deal? Yes and no. After all, Rachel is an opinion host — and a uniquely talented one at that regardless of whether you agree or disagree with her — and where she stands in terms of ideology is no secret. She wears the her liberal badge proudly in the same manner Sean Hannity does on Fox as a conservative.
But know this: You simply cannot hug presidential candidates openly like that right after a debate. It makes it too easy for critics/competitors who didn't even watch to point at that one moment, one that had nothing to do with a great debate, and say, "See? Hillary and Bernie probably got off easy." From this perspective, that wasn't the case as noted above, but the unforced error is now getting play in conservative media and on talk radio, thereby needlessly drawing some negative attention. As someone who is now the face of the network, she should known better there. And for those who think the embraces aren't even worth mentioning, just — for a moment– picture the reaction if Megyn Kelly were to hug Marco Rubio and Ted Cruz after Fox's next debate. Ok… glad we got that squared away.
Back to the debate and the candidates themselves, the performances were best described by The Daily Beast's Michael Tomasky:
Sanders knows what to say; he knows how to connect emotionally. On Flint, he was done with his answer, and then it occurred to him, but let me just add—Flint is a poor black city, and it never would have been treated this way if it were a middle-class white city. Applause! Clinton is less good at that. She aims for the head. He aims for the heart. That's their DNA. Heart almost always wins.
Heart and head notwithstanding, both candidates were prepared and the tempo and energy were certainly there. But with Clinton, she went after Bernie too hard. That's fine in the general if Trump or Cruz or Rubio is at the podium next to you. But Bernie is likable and honest. He goes out of his way to be courteous and respectful to Clinton. And when she threw this ill-advised punch, it felt contrived:
"Enough is enough! If you've got something to say, say it directly. But you will not find that I ever changed a view or a vote because of any donation that I have ever received… I think it's time to end the very artful smear that you and your campaign have been carrying out in recent weeks and let's talk about the issues!"
So Bernie wins the night with an B+ performance. His foreign policy answers are always shaky, hence the drop from "A". Hillary earns a B, just a touch below Bernie for the approach underscored above. But that's not to say she didn't do well overall, as she showed her experience on this kind of stage last night (having now done over 35 debates when including 2008) and gravitas in the process… particularly on foreign affairs, where she's nearly flawless in terms of performance.
As for how many watched, I predicted on Twitter that MSNBC would likely draw 5.5 million for this debate. To compare first before revealing the estimated number, note that CNN got 15.3 million for the first DNC debate in October, with the numbers dropping to 8.5 million on CBS in November (held a Saturday night), 7.8 million on ABC in December (held on a Saturday night) and 10.2 million on NBC in January (held on a Sunday night). To that end, MSNBC drew an estimated 4.5 million viewers last night.
So why the lower number compared to the other Democratic debates? Two reasons: First, debate fatigue is setting in on both sides. Numbers are considerably down from the August and September (ridiculous) highs they were at when Fox and CNN drew 24 and 23 million for the first two Republican showdowns (the last two — the 6th and 7th of the campaign season– failed to break the 12.5 million mark). Same goes for the Democratic side regarding audiences being notably down from that 15.8 million apex four months ago…
But what really hurt MSNBC was CNN's Democratic Town Hall that aired just one day earlier (Wednesday). That event dominated the evening in winning the night easily, averaging 2.71 total viewers (compared to Fox with 2.31 million and MSNBC with 984K) and scoring an impressive 871K in the 25-54 demo. So while the CNN Town Hall didn't rate as high the MSNBC debate, it may have taken the freshness factor out of the equation (having just heard from the candidates the night before) and therefore diminished the audience somewhat. The lack of time to properly promote said debate didn't help matters either.
Either way, MSNBC enjoyed its highest-rated broadcast in a long time and obviously won the evening over Fox and CNN. Final note: This debate was never on the DNC's original schedule. But MSNBC brass wisely went directly first to the candidates instead of the DNC (both of whom were itching for more exposure than the limited schedule arranged by Debbie Wasserman Schultz allowed) and then asked the DNC for its blessing after the fact. As a result, the network created leverage and a big event before the New Hampshire primary out of thin air and hustle. So while it was the lowest-rated debate of the season, it was a big net-positive for MSNBC both in terms of numbers and symbolically.
Another debate is in the books. MSNBC hosted the best Democratic debate we've seen in some time.
Having two candidates of stage instead of ten was a plus. Having prepared moderators who are perceptive enough to let the two candidates engage with little interruption was an even bigger one.
— —
Follow Joe Concha on Twitter @JoeConchaTV
This is an opinion piece. The views expressed in this article are those of just the author.