Heritage Action President: 'Everyone Understands We Can't Repeal Obamacare Until 2017'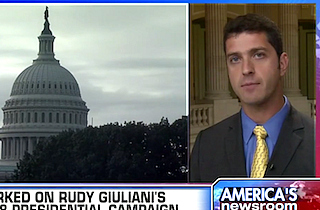 As Congress inches toward passing a continuing resolution and raising of the debt ceiling that contains no major concessions to the GOP, Heritage Action President Michael Needham told Fox News' Bill Hemmer on Wednesday morning that any large scale repeal of Obamacare would have to wait until the GOP had recaptured the Senate and the White House three and a half years from now—despite the weeks House Republicans just spent adamantly opposing the law's implementation.
"'Even many on the left, including powerful unions, who were once the law's stronger supporters, have conceded that it's a train wreck,'" Hemmer quoted from Heritage Action's letter to GOP lawmakers, which was considered instrumental in torpedoing the House's tenuous agreement late Tuesday night. "I know you believe that, but with a Democrat in the White House and Harry Reid with the majority in the Senate, what can you do?"
"Everybody understands that we're not going to be able to repeal this law until 2017," Needham said. "We have to win the Senate and win the White House."
"But right now it is clear that this bill is not ready for prime time. It is clear the bill is infair," Needham continued. "We have the opportunity and really the obligation to decide whether we want to go forward or have a timeout and consider whether or not it is right thing for America."
Heritage Action, the political arm of the conservative think tank Heritage Foundation, was one of the fiercest proponents of the defund strategy, and Needham was called "the strategist behind the shutdown" by the Wall Street Journal.
Hemmer pressed him on the practicality of opposition: "But again it comes back to the question of what power you have to push it through with a Democratic majority in the Senate and the president."
"[Obama] should explain to the American people why he refuses to respect the right, that the Constitution gives power of the purse to the House," Needham replied. "James Madison wrote in Federalist 58th that the House of Representatives has power of the purse to achieve redress of grievance. And the American people have a grievance against an incredibly unfair, unworkable, and unaffordable law. And the House of Representatives is doing the right thing to using its constitutional power of the purse."
Watch the full clip below, via Fox News:
[Image via screengrab]
——
>> Follow Evan McMurry (@evanmcmurry) on Twitter
Have a tip we should know? tips@mediaite.com