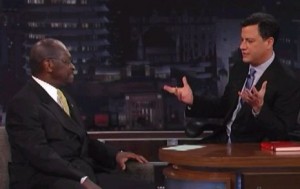 Beleaguered Republican frontrunner Herman Cain appeared on Jimmy Kimmel Live Monday night and addressed his new scandal directly with the late night host. "How was your day?" Kimmel deadpanned. "Well, all things considered, I'm still alive," the former Godfather Pizza CEO said, and admitted he was surprised by his accuser's press conference. "We watched it because we didn't even know that this whole thing about woman number four was going to even come out, so that was a surprise." Kimmel asked Cain if he considered hiring Gloria Allred as his attorney. "Let me put it to you this way," Cain joked. "I can't think of anything that I would hire her to do, okay? I can't think of a thing!"
RELATED: Jon Stewart Gives Gloria Allred More Herman Cain Harassment Punchlines: 'Occupy Ball Street'
"At least it wasn't one of the many that have the first name anonymous so now this one actually had a name and so we watched to see what it was and who it was," Cain continued. "We are dealing with it and tomorrow we're going to have a press conference. We're taking this head-on."
Kimmel said he had thought about the human factor of Cain's predicament. "I was imagining you watching this and like just putting myself in that position and I was imagining your wife. Did you speak to her today? Was she watching it with you?"
Cain acknowledged his wife watched the speech. Cain explained that steam came out his ears when he heard the allegations and said there was "not an ounce of truth in all of these accusations."
Kimmel noted that Tiger Woods had refused to talk about his sex scandal and it did not help him.
"If there are future firestorms will you talk about them?" Kimmel asked.
"I will talk about any and all future firestorms because here's one thing people don't know about Herman Cain…" he exclaimed. "I'm in it to win it and i'm not going to be discouraged!"
"You told a reporter when people get on the Cain train they don't get off — do you regret that choice of words and what what did you mean by that?" joked Kimmel.
Watch Herman Cain talk about the sexual harassment allegations on Jimmy Kimmel Live via ABC below:

Have a tip we should know? tips@mediaite.com