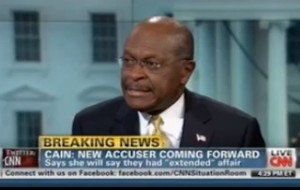 Viewers of CNN's The Situation Room this afternoon may have noticed that something sort of strange happened at the end of the first of two segments in which Wolf Blitzer interviewed former GOP frontrunner Herman Cain. The host told his television audience that CNN now had "Breaking News" (complete with graphics package), but that they wouldn't share it until after the commercial break. After car insurance and other unmemorable ads ran, Blitzer came back (now with breaking news audio as well), and Cain announced news of forthcoming allegation.
Cain revealed little detail about the actual accuser to Blitzer, other than that he was aware that a third individual would be coming forth shortly, apparently identifying herself with news of the allegations. He did share that the woman expected to come forth was an "acquaintance" whom he had previously considered to be a friend. The clear message to come from the allegations was that Herman Cain was interested in getting out in front of the story, preempting and, therefore, controlling how the news would break. Given how seamlessly he was able to reveal the news and dismiss the allegations, all in one fell swoop, suggests that the communications and messaging team working with candidate Cain has learned some valuable lessons since they bungled the news of the first accusations that broke roughly a month ago.
Cain's position as GOP frontrunner seems to have faded along with news of his sexual harassment allegations, so perhaps the former Godfather's CEO is looking for reasons to get back into the news cycle, even if the news isn't all good. At the zenith of reporting on the sexual harassment allegations, the attendant publicity resulted in record fundrasing on his behalf.
One of the odder turns of this story was that, just as Blitzer teased to the commercial break, CNN producer Vaughn Sterling tweeted news of the impending, revealing that that there appeared to be an arrangement between the show's producers and Cain, which is not unto itself unethical, but demonstrates the brave new integrated world of social media, and the sometimes cozy relationships that campaigns have with the very media outlets that cover them.
Watch the clip for yourself, courtesy of CNN:
Have a tip we should know? tips@mediaite.com