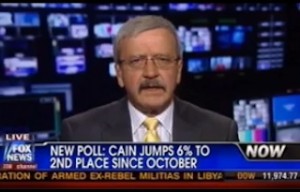 Mark Block is appearing so often on Fox News these days that some might mistake him for a paid contributor. Or maybe his appearances are paying off in different, more significant ways to the Herman Cain presidential campaign? News that Cain's position in the GOP primary polls — and greatly increased donations to his campaign — seem to have come as a result of the increased attention brought about by Politico's bombshell alleged sexual harassment report from last Sunday, about Cain's days at the National Restaurant Association, seem to indicate more PR boom than bust.
Today's appearance for Block was much better than yesterday's, though he did confirm discussion about suing Politico over their report. Block told host Martha MacCallum:
This is the last time I'll be addressing the issue that has swirled Washington and the nation this week. Mr. Cain is a different kind of candidate. We have ran a different kind of campaign and we are not going to play by the rules that the media established the fact of the matter the political article fit was held up to the same standard as the code ethics for journalism, the people involved in that would be fired.
Its worth noting that during yesterday's confused appearance with Megyn Kelly, Block also said that he would be moving on from a story that he describes a "media cesspool," but here he is again talking about it. The notion that the Cain campaign would consider suing Politico for a report that proved to be accurate, after they called it a "smear campaign," seems patently absurd. If there were actual issues of slander between the two parties, it would seem that Politico has the better case.
But perhaps the most significant part of this story is that it appears to confirm the very cynical notion that television appearances have an enormously positive effect on campaign fund raising, no matter how negative the news. So maybe the last thing Block wants to do is limit his appearances on cable news, therefore stemming the tide of very real campaign donations that are now flooding the Cain campaign.
Watch the segment below, courtesy of Fox News
Have a tip we should know? tips@mediaite.com