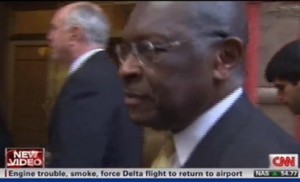 Embattled Republican presidential frontrunner Herman Cain, under fire for making a wisecrack about Anita Hill in the midst of his own sexual harassment controversy, was asked about the joke on his way out of a fundraiser at Manhattan's Russian Tea Room today. A CNN reporter if he regretted how he "responded to the Anita Hill comment," Cain replied, "I want to get back on message. That's not on message."
Mr. Cain continued, saying, "I want to fix this economy, so people can go back to work, not continue attention on all this stuff that does not matter."
Asked if he thinks his message is working, Cain replied, "Yes, yes I do," as he ducked into his waiting car.
That fundraiser at the Russian Tea Room, incidentally, featured a VIP reception for donors of $999.00, a nod to the candidate's "9-9-9" flat tax plan.
This wasn't Cain's first expression of a wish to stay on message, which is a curious way to respond to questions about something that came straight out of his own mouth. It would be as if Rick Perry had told John Harwood, "I want to remember that third agency" at Wednesday night's debate. If Cain is "off message," it's his own doing.
The dirty little not-so-secret, though, is that Cain's joke about Hill is on message, and based on the undeterred reception Cain has been getting from his supporters, it is being heard loud and clear. There are many in this country (left, right, and center) who view women who complain about sexual harassment with suspicion, and view complaints of sexual harassment as a joke, and Cain is simply shoring up those votes.
Cain's frequent invocation of the term "on-message" also oddly reveals the turning of the political gears, in much the same way as Mitt Romney's "I'm running for office, for Pete's sake" declaration at a debate last month. The term "on message" is not a positive one; it's roughly equivalent to the term "spin," politically. What's strange is that I have yet to hear anyone in the political press make note of it, which demonstrates the sad reality that journalists seem to have surrendered. That reality is personified by the fact that, following debates and other political events, news outlets routinely report from a place called "the spin room." It's naked, neon-sign-lit dishonesty.
Here's the clip of Cain's response, from CNN:
Have a tip we should know? tips@mediaite.com