Herman Cain Confuses Candy Crowley With Immigration Stance, Blames 'Confusion' For Poll Drop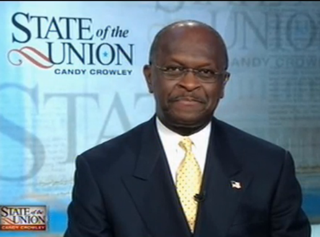 Herman Cain's poll numbers are not what they once were, and Herman Cain knows it. On CNN's State of the Union this morning, host Candy Crowley asked Herman Cain to explain that drop, and what had been going wrong with Herman Cain's campaign. According to Herman Cain, the drop was due to "obviously, false accusations and confusion on some of my positions," but "in terms of the mechanics of the campaign, nothing has gone wrong." Herman Cain then started talking about his stance on abortion.
RELATED: Herman Cain Is Campaigning Directly To The 12 Year Old Version Of Me From 1999
Crowley began by noting that his poll numbers were dropping and asking what he believed contributed to that. While Cain argued that "most of my supporters, they have stayed on the Cain Train," and that "nothing has gone wrong in terms of our strategy," he believed that "obviously, false accusation and confusion on some of my positions has contributed."
Crowley then went on the address that confusing, switching gears to his stance on abortion from a damning FactCheck.org article on Cain's positions, which Cain repeated was "100% pro-life" but that his interview with Piers Morgan where he said the family would have to decide in a hypothetical position was "taken out of context." As for his foreign policy, he explained that he had a simple, concrete plan for how to run it that should answer everyone's questions: "peace through strength and clarity."
RELATED: Herman Cain Tells Piers Morgan That He Is Anti-Abortion, Yet Pro-Choice?
To continue the fall down the rabbit hole, Crowley then turned to Newt Gingrich's controversial stance on immigration, which Cain has called "amnesty." Here Cain responded that "we don't need other exceptions… I'm not going where Newt Gingrich is," but that he believed the states should "be empowered" to deal with immigration how they wish. Crowley replied by asking whether he would be comfortable with states then requesting permission for "some sort of amnesty," which set Cain off. "No, no, no! I did not use that word!" he replied, accusing Crowley of attention to get him in trouble. By the end of the interview, even Crowley admitted she was "getting confused" herself.
The segment via CNN below:

Have a tip we should know? tips@mediaite.com