Herman Cain Defends Colbert Rally To Cavuto: Young Voters Think 'The Mainstream Media Is Boring'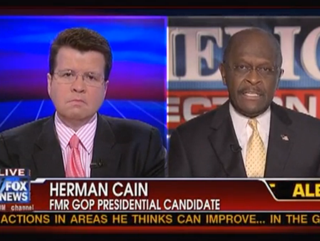 Herman Cain is on the ballot in South Carolina which, given that he dropped out of the race a long time ago, would usually not be much of an issue. But thanks to Stephen Colbert's endorsement, Cain is once again a player. Having been a former frontrunner in the Republican race, however, Cain found himself defending his appearance with Colbert from claims that the two were "trivializing the process," and told Neil Cavuto today that he did it to court youth and college voters, and that Colbert was correct in pointing out that the "FEC rules are broken."
RELATED: Stephen Colbert And Herman Cain Seem To Both Be Enjoying Their Unlikely Partnership
Cavuto began the interview by asking about Newt Gingrich and the recent claims by his ex-wife that he had wanted her to partake in an "open marriage." It seemed to do nothing to stop his rise in the polls in South Carolina, except, perhaps, exacerbate it. "The attack on Newt wasn't coincidental," Cain replied, "and I believe voters connected the dots. They saw what happened to me and now, the same attack on Newt." He called it a "coordinated effort to take down whoever is on top," and refused to say who was behind it, but credited the people of South Carolina with being "sick of it."
He responded that there was "no difference" between what happened to him and what happened to Gingrich, but that "some people in the media wouldn't stop spinning these false accusation over and over and over [and] that was painful to my wife." He added, on a totally different type of attack, that he would not release his tax returns if he were Mitt Romney. "They want to give liberals one more nugget to basically continue the class warfare," he argued.
The talk then turned to Colbert. "Why are you doing this?" Cavuto asked. "No one talks about the youth vote and the college vote," he replied. "With all due respect, they believe the mainstream media is boring." He described his event with Colbert as an "exhilarating experience," and challenged the premise that Colbert was "trivializing the process." "The FEC rules are flawed to begin with… all he is doing is using his platform to help keep college students engaged." While he added that he "explicitly told them not to vote for me" at the rally, he noted that, as any candidate with a SuperPAC, "I can't tell Colbert what to do," but only encouraged people to not "be part of the problem– be part of the solution!"
Cain also had nice words for Neil Cavuto's impressively salmon tie.
The segment via Fox News below:

Have a tip we should know? tips@mediaite.com