Herman Cain Exits Race With Admission That He Did Quote Pokémon That One Time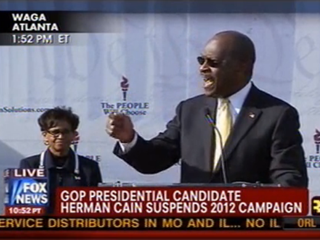 Last summer, during one of the several dozen or so Republican debates since the campaign season began, Herman Cain came "under fire" for using a very suspicious poem in his closing statement– one that happened to quote the theme song to Pokémon: The Movie 2000, but that he attributed to "a poet." And this was the way his campaign ended today, not with a bang, but with a "pika," finally admitting, "I think these words came from the Pokémon movie."
RELATED: Wait…Did Herman Cain End The Debate With A Line From A Pokemon Movie?
The words, an enterprising googler found, were from the theme song to the second Pokémon movie released in 2000, in which the Pokemon Lugia is released from the core of the arctic by Ash Ketchum and his enterprising band of young trainers, or something to that effect (this was a long time ago for your author). In any case, it was the last controversy Cain would address as a presidential candidate. "I think these words came from the Pokémon movie– the media pointed that out," he told the crowd solemnly. "I'm not sure who the original author is, so don't go write an article about the poet, but it says a lot about where I am– where I am with my wife and my family, and where we are as a nation."
And he proceeded to recite the words from Donna Summer's Pokémon: The Movie 2000 theme song, once again.
RELATED: Herman Cain Is Campaigning Directly To The 12 Year Old Version Of Me From 1999
The clip via Fox News below:

Have a tip we should know? tips@mediaite.com