Herman Cain: GOP Has 'Branding Problem,' Potential 2016 Candidates 'All White'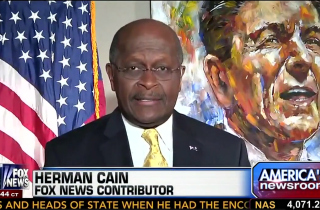 Appearing on Fox's Happening Now on Tuesday morning, former GOP presidential candidate Herman Cain lamented the Republican "branding problem," specifically pointing to unfocused leadership, a lack of cohesion among factions, and a gaggle of all-white potential candidates for 2016.
Cain agreed with Fox host Bill O'Reilly's assessment that the GOP suffers from "no real central authority," adding several examples of his own.
"Last November, the Republicans were supposed to pick up some seats in the Senate and maybe the House, and they didn't. They were supposed to win the presidency running against President Obama's bad record; they didn't," he told host Martha MacCallum.
"The Democrats," Cain added, "they stick together even if they're wrong and even if they lie. At least they all to can it consistently. Just look at Obamacare."
He then pointed out his belief that the party is unable to establish itself with certain types of voters. "The Republican Party does have a branding problem," he conceded. "They've had one for years, and I have been screaming to the top of my voice to whoever will listen in the Republican Party: You need to fix it; there's a way to fix it."
Cain then expressed dissatisfaction with the lack of racial diversity among the party's leaders:
The RNC sent out a flier to some of its members talking about potential 2016 presidential candidates. Do you know what they had in common? They all have been on TV and in the media a lot, and they were all white. Where was Allen West? Where was Dr. Ben Carson? And have they ruled out the possibility that I might consider another run? That's part of their branding problem.
Watch below, via Fox:

[h/t Yahoo]
— —
>> Follow Andrew Kirell (@AndrewKirell) on Twitter
Have a tip we should know? tips@mediaite.com