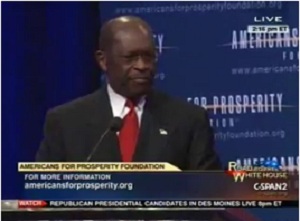 To watch Herman Cain speak at Americans For Prosperity's Defending The American Dream conference, you would never know that he's embroiled in a career-threatening scandal (and maybe he isn't). In particular, Cain really brought down the house when he addressed his connection to the billionaire Koch brothers head-on, saying, "I am the Koch brothers brother from another mother" to screams of approval from the crowd.
Herman Cain campaign manager Mark Block, and other Cain aides, are former Americans For Prosperity employees, but Block recently told NBC News' Chuck Todd that the Koch brothers, who fund AFP, were not donors to Cain's campaign, and that he hadn't spoken to them in about a year.
Cain, however, pushed back against a New York Times article portraying his closeness with the Kochs and AFP by doubling down. "The article tries to make a case of how close the Koch brothers and I are," Cain told the crowd at the Washington Convention Center.  "I'm proud to know the Koch brothers. I'm very proud to know the Koch brothers."
To cheers from the crowd, Cain continued, "They make it sound like that we have had time to go fishing together, hunting together, skiing together, golfing together."
"This may be a new announcement for the media," Cain said, with some amusement in his voice, "I am the Koch brothers' brother from another mother. "
The crowd went absolutely nuts at this, and Cain egged them on. "Yes. I am their brother from another mother. And proud of it."
Considering Cain's remarks, in context with the Koch brothers' billions, and the Occupy Wall Street movement's concentration on wealth inequality, perhaps we can all see whose American Dream they're Defending, and who they're defending it from.
Here's the clip, from C-Span 2:
Have a tip we should know? tips@mediaite.com