Herman Cain: Occupy Wall Street Was Organized To Distract From Obama's Failed Policies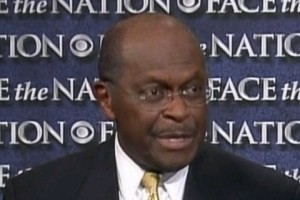 On Face the Nation today, presidential candidate Herman Cain questioned the legitimacy of the Occupy Wall Street protests and whether they were, as many people believe, a grassroots movement to stand up against the financial sector, or a way of distracting from President Obama's economic policies.
RELATED: Eric Cantor Says He's 'Worried' About The Occupied Wall Street 'Mobs'
Bob Schieffer played a clip of Cain saying that harboring anger at fellow Americans for being unsuccessful is anti-American. Cain also alleged in the video that the protestors were distracting Americans by focusing on those who create jobs as opposed to those who create job policy. Schieffer asked Cain if he still stood by those remarks. Cain argued that the protestors did not have a strong sense of priorities.
"The bankers and the people on Wall Street didn't write these failed policies of the Obama administration. They didn't spend a trillion dollars that didn't work. The administration and the Democrats spent a trillion dollars. They're not proposing another 450 billion dollars, the administration is proposing another 450 billion dollars wrapped in different rhetoric. So it's a distraction so many people won't focus on the failed policies of this administration."
Schieffer asked if Cain really believed there was a massive conspiracy by the protestors to get together and say, "Hey, everyone, look over there!" to draw attention away from the president. Cain argued that the unions were instrumental in setting up the protests. And as for his earlier charge that the protestors are anti-American, Cain framed anti-Americanism as being one and the same with anti-capitalism, which he believed is a belief many of the protestors are advocating.
Watch the video below, courtesy of CBS:
Have a tip we should know? tips@mediaite.com
Josh Feldman - Senior Editor