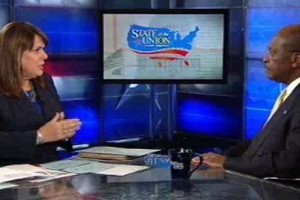 On State of the Union today, Candy Crowley pressed presidential candidate Herman Cain on whether disparities in education and incarceration rates between America at large and the African-American community were forms of institutionalized racism and whether black citizens are on the same economic playing field as everybody else in the United States.
At the Values Voters Summit, Cain proudly boasted that he had succeeded in fulfilling all of his American dreams, and in answering a question that a reporter gave him about whether he was angry at America for what his ancestors went through, Cain asked "What is there to be angry about?"
Crowley cited high unemployment and incarceration numbers among African-Americans, telling Cain there are "a lot of things" many black voters would have to be angry about in the United States. She asked him whether it was fair for him to take his own personal fortune and apply it broadly to an entire group of people.
Cain defined luck as a mixture of preparation and opportunity, and explained his thoughts on contemporary racism (or rather, a lack thereof) in American society.
"I don't believe there is racism in this country today that holds anybody back in a big way. Is there some… are there some elements of racism? Yes. It gets back to, if we don't grow this economy, that is a ripple effect for every economic level, and because blacks are more disproportionately unemployed, they get hit the worst when economic policies don't work. That's where it starts. Grow this economy and it's going to help everybody get jobs and to get back in the workforce."
Crowley pointed to high disparities between black citizens and the rest of the country, and Cain insisted these were not results of institutionalized racism but "bad economic policy." He pointed to differences in education and the concentration of African-Americans in big cities like Detroit, and prioritized dealing with the national economy. Cain teased an addition to his "9-9-9" plan: an empowerment zone feature he will be announcing in the future.
When pressed on his criticism of the entitlement system, Cain said he believes every American is entitled to the pursuit of the American dream, whatever they perceive it to be, and a level playing field to compete on. He argued that many black Americans are on the same playing field as whites, citing his own business experiences and meetings with other minority executives in the workforce.
Watch the video below, courtesy of CNN:
Have a tip we should know? tips@mediaite.com
Josh Feldman - Senior Editor