Herman Cain: Republicans Who Don't Back Nominee Trump Are 'Absolutely Insane'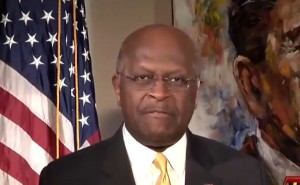 The GOP establishment is making a concerted effort to prevent its own party's frontrunner from clinching the nomination; several prominent Republicans have spoken out against the Republican candidate leading in the polls; and former presidential candidate Herman Cain thinks these in-party efforts to sabotage Donald Trump are "absolutely insane."
Speaking to Fox host Neil Cavuto Wednesday afternoon, the former CEO of Godfathers Pizza and onetime contender for the Republican nomination blasted the party's establishment for the "palace revolt" (in Cavuto's phrasing) it was waging against the apparent nominee. Cain said:
I believe that the American people through these first group of presidential primaries, they are making a very strong statement by supporting Donald Trump. And for the establishment or these intellectual conservatives to be against Trump and actively working against him, I believe it's absolutely insane. One of the reasons that the RRepublican party has suffered some damage control over the past several years in terms of that brand, is because they're not listening to the people. Donald Trump has been getting all of the — he's been winning these elections and I think they ought to stand back and get over it. 
Cavuto tried to stoke some life back into Mitt Romney's week-old contention (first aired on Cavuto's show) that Trump's unreleased tax returns could potentially contain a "bombshell."
Cain dismissed the tax returns conversation as a non-issue and accused Romney of attempting to "throw a grenade out there in order to create some discussion and some controversy." None of the candidates should have to release tax returns, he said, since all it would do is provide fodder for the "nah-nah-nah-nah-nah-naysayers out there" to create additional scandals.
The "mantra" for Republicans, he said, ought to be: "Support whoever the nominee is."
Have a tip we should know? tips@mediaite.com