'Herman Cain Should Have To Register As A Sex Offender' Says MSNBC Guest Jimmy Williams
'Herman Cain Should Have To Register As A Sex Offender' Says MSNBC Guest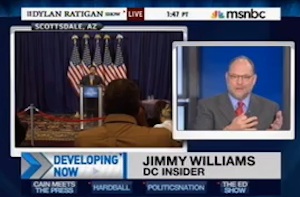 MSNBC contributor Jimmy Williams tore into Herman Cain on Dylan Ratigan's program Tuesday, calling for the besieged Republican candidate to be placed on the sex offender registry. "I mean, this guy was lying. He's a big, fat liar, Herman Cain. I'm going to say it on TV. Herman Cain is a big, fat liar, okay?" Williams lambasted. "When Bill Clinton shook his hand, his little finger at the nation and said 'I did not have sexual relations with that woman,' everybody in the country knew he was lying. You can smell it. This guy is lying. There is no difference between Herman Cain — being accused of sexually harassing woman after woman after woman, we're now at five — by the way, there are five flags behind that podium, I just want to point that out. There's no difference between that. Why should Herman Cain, if he's even accused of one of these and found guilty, that man should have to register as a sexual offender."
RELATED: MSNBC Guest: 'Anybody That Thinks The Tea Party Exists Is Smoking Crack Cocaine'
Williams made the harsh proclamation prior to Cain's press conference this afternoon and induced nervous laughter by the other commentators for his over-the-top suggestion.
"Oh come on, Jimmy!" exclaimed Republican strategist Susan Del Percio. "Now you're going a little –now, stop!"
"Why not?" interjected Williams. "You're a woman! Are you not offended by what he's done? I'm offended and I'm a man."
"I may be offended but there are laws and frankly, that's not the case," Del Percio said.
"If he's accused and convicted, the man should have to register as a sexual offender," repeated Williams.
"What is he going to be convicted of?!" Del Percio cried out. "There's no charges, none of that exist. Now you've just gone on to make a big to-do. You called the guy a liar –"
"He's a liar!" responded Williams.
"Yes, so now you've got all the dramatics out," admonished Del Percio.
"A liar is running for president of the United States, I'm sorry," Williams continued.
"To say he should register as a sex offender is just absurd!" Del Percio added.
"I agree with Susan, I think it's a little beyond the pale to say there's no difference between him and a sexual offender," said Democratic commentator Karen Finney.
Watch Williams suggest Cain should register as a sex offender below via MSNBC:

(
h/t RCP
)
Have a tip we should know? tips@mediaite.com