Herman Cain Talks Poll Numbers And Chris Christie: 'Too Liberal For Conservative Voters'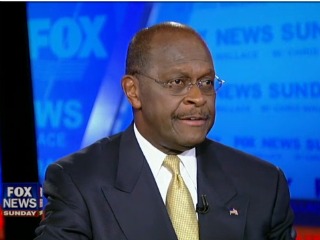 GOP presidential hopeful Herman Cain visited Fox News Sunday to discuss his recent bump in poll numbers. Host Chris Wallace introduced Cain as a "political long-shot" who has jumped "into the top tier" following several rounds of debates, showing that support for Cain has jumped from 6 percent on August 29th to 17 percent on September 25th — a jump that has also resulted in lower numbers for both Mitt Romney and Rick Perry. And the news for Cain is even better in Florida, where he is enjoying 25 percent support, right behind Romney's 27 percent, and way above Perry's 13 percent.
According to Cain, his surge in popularity is proof that "the voice of the people is much more powerful than the voice of the media" — despite the media's attempt to make it seem as if the GOP race is, ultimately, a contest solely between two people — and that "message is more powerful than money."
Of course, any interview with a candidate would be sorely lacking if the interview neglected to bring up the mounting hype surrounding New Jersey Governor Chris Christie — a man the media has painted as a symbol of the GOP's overall dissatisfaction with the current field. Cain doesn't seem to concerned about the possibility of competition from Christie, opining that, once conservative voters are made aware of his record (for example, his support for same-sex civil unions and his stance that being in his country without documentation "is not a crime"). "Is he too liberal?" asked Wallace. Cain answer was simple and to the point:
Yes. I believe that a lot of conservatives, once they know his position on those things that you delineated, they're going to not be able to support him. I think that that is absolutely a liability for him — if he gets in the race.
Watch the full segment below, courtesy of Fox News:
Have a tip we should know? tips@mediaite.com