Herman Cain Tells CNN's Kyra Phillips That His Breakout CainTV Star Is Dead (Update)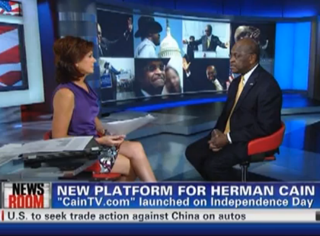 Herman Cain celebrated Independence Day yesterday by launching his own programming website, Cain TV, a project that many did not know exactly what to make of when he first announced it. With the programming out and on the open, CNN's Kyra Phillips talked to Cain and asked about one of the most interesting segments on his website, "Street Smarts with Lewis Brown," and how he found the idea for the eccentric commentary from Brown, who is a homeless person from Hollywood who Cain announced had passed away after being asked about his show.

RELATED: The Teaser For Herman Cain's 'Cain TV' Will Blow Your Mind
"It's not overtly political, it's covertly conservative," Cain told Phillips about the programming, later adding that he began the project because "we need a voice" in the political world and "too many people are apathetic." Contrary to the blaring motto in the promo for the network ("We Are Not Stupid"), Cain told Phillips, "I believe too many people are stupid because too many people don't challenge some of the information our leaders give to us."
Phillips then asked about Lewis Brown, noting that he was an interesting and eye-grabbing person. Cain explained that his producer "just happened to be walking down the street one day, came across Lewis, asked him if he wanted to say something, and put it on film." Cain described Brown as intelligent, saying "even though he is a homeless person doesn't mean he is clueless. He probably knows more about world issues… than a lot of people who think they know whats going on." Then he announced that Brown would not be making any more episodes of Street Smarts, because "Lewis passed away just last week unexpectedly," to Phillips' shock. "Chris went back to shoot another episode, talked to some of his friends, found out he passed away with a heart attack."
Cain promised that he "would be looking for other Lewises, but it's not going to be forced. It will be a natural kind of thing." The point of Cain TV, he concluded, was "to hear from regular folk," and he exemplified that.
Update: Astute reader David Turner points out that Lewis Brown actually died in September 2011, and was profiled in the New York Times in May of that year. Brown, which his program on Cain TV does not mention, was a basketball prodigy who eventually played professional basketball in France and eventually succumbed to homelessness in California– not exactly "regular folk."
The fact that Cain is about a year off on the death of his top star certainly raises a number of questions– especially since he claimed his producer shot the footage recently and went to shoot another episode of it last week, apparently oblivious to the fact that Brown has his own Wikipedia page and history in the New York Times. It is possible to imagine that the footage was not originally taken by Cain's producer, or that it was but had been laying about for a while. This is all the information Cain TV provides about Brown:
Watch and listen to a homeless guy in Hollywood who will rock your socks off with his unique philosophy on current events, and the rules of life. You just have to see and hear him go off about everyone and everything – it's too good. Prepare to be shaken up more than a little bit. And there's no use in telling him to go home – he is.
Update II: Cain's Media Relations Director Kathy Hoekstra responds to the appearance:
Mr. Cain heard about Lew's death last week. He simply misspoke on the date.
The interview via CNN below:

—–
»
Follow Frances Martel on Twitter
Have a tip we should know? tips@mediaite.com