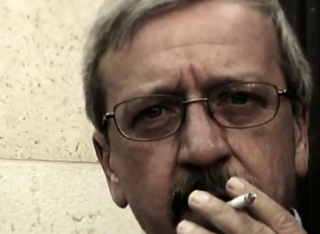 "We've run a campaign like nobody's ever seen," says Mark Block, Herman Cain chief of staff and protagonist of his latest ad, which dropped today online. He may be right, because it has been quite a while, if ever, since we've seen an ad like this. A close up of Block speaking takes up most of the time, giving the impression that this is a normal campaign spot, until he concludes that "together we can do this. Together we can take this country back." Then things get weird.
The end of the sentence prompts the beginning of a dramatic song with a woman proclaiming "I AM AMERICA" (it's a song we've heard before, by Krista Branch), and, for some reason, serves a cue for Block to reveal in slow motion that he is smoking a cigarette. He takes a breath and blows nicotine into the camera while Branch sings the chorus of her song. A profile of Herman Cain then fades into view, concluding one of the most bizarre 5-10 second chunks of film in some time.
RELATED: This Happened: Herman Cain Sings Pizza Ode To Tune Of John Lennon's Imagine
Of course, everything Block previously had to say fades almost immediately from memory as he reveals this new riddle. Why is he smoking– a more or less unpopular practice, particularly for millennials– in this ad? The only answer the audience gets is that he is smoking because "I am America, once voice, united we stand," or something. Is this ad secretly not pro-Herman Cain, but actually anti-Mike Bloomberg? Who knows, but it will definitely be a water cooler topic for the next few days.
Watch the new Herman Cain ad below:

Have a tip we should know? tips@mediaite.com