Hero Cat Saves Young Boy from Dog Attack
VIDEO: Hero Cat Saves Young Boy from Dog Attack
While I normally have a pretty low opinion of the type of people who populate the internet with images of cats doing cute little cat things, I'll make an exception in the case of this video, the first recorded instance in history of a cat actually contributing anything useful to the world.
The footage, from a surveillance camera in Bakersfield, Calif., via a local ABC affiliate, shows a young boy playing on his bike. Then, it cuts to a neighboring dog. The tension builds. Something is wrong.
The cherubic little boy, blissfully unaware of what's about to happen, walks along on his bike, when he's snatched out of nowhere by the dog, and pulled to the ground. WHO WILL SAVE US?
Tara the cat is who.
The family cat immediately leaps into action, tackling the dog with perfect form, and chasing the beast, two times its size, around the corner, valiantly sacrificing itself so that the boy's mother can come to his aid.
The boy's mother told 23ABC the boy needed a few stitches, but he is doing fine this morning.

She also said the dog belonged to a neighbor and is now under observation.

23ABC will be hearing from the boy, the mother and the cat later in the day.
Relive it over and over again in this gif via @Brosner85: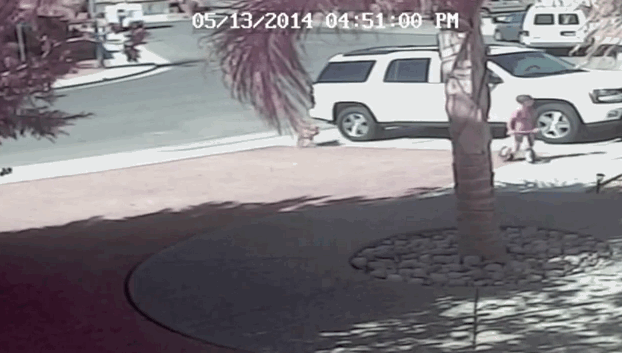 And watch the full surveillance video below (WARNING: Including a graphic image of the boy's wounds):
UPDATE — May 14, 4:35 p.m. ET: The dog is being put to sleep, according to TMZ:
As if being beaten up by a cat wasn't bad enough, TMZ has learned … the dog was picked up by animal control yesterday and the decision has been made to put it to sleep.

Sources tell us … the dog was aggressive even after it was captured and officials decided it was in the best interest for everyone involved to euthanize the canine.
[h/t @neetzan]
— —
>> Luke O'Neil is a journalist and blogger in Boston. Follow him on Twitter (@lukeoneil47).
Have a tip we should know? [email protected]