Hero Worship: MSNBC Panel Makes 47% Video Maker Reenact 'Momentous Moment' In 'American History'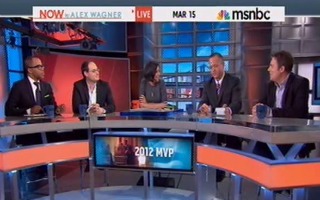 Totally apolitical bartender Scott Prouty, who just happened to film Mitt Romney making his infamous remarks about the "47 percent" of Americans who he said received federal benefits and would therefore not vote for him, has been on a whirlwind media blitz this week. He's appeared on every cable news outlet from MSNBC to… MSNBC. But his appearances have been notable for the fawning hero worship directed at Prouty. The embarrassing spectacle took a twisted turn on Friday when, during an appearance on MSNBC's Now with Alex Wagner, Prouty was asked to reenact the moment when he set his camera down on a bar top and made the campaign-changing film.

RELATED: S.E. Cupp Battles MSNBC Anchor Over Whether 47% Video Maker Is A Neutral Moderate
"Given that this is such a momentous moment in the course of the campaign and, therefore, American history, I propose a reenactment," said longtime editor of The New Republic, Franklin Foer.
"I'm just curious, mechanically – like, did you – was there a moment – were you just watching the speech and then you just heard something that triggered you, or did you know you were going to record it from the start?" Foer continued.
"What kind of camera did you use?" Wagner asked.
"How the hell did you do it?" Foer added with wonderment. "I need to give some tips to some of my cub reporters."
"Cannon Power Shot," Prouty replied, as he set down his mini-cam down on the desk just so. "I just pressed record."
"When he started talking, I just pressed record," the apolitical Prouty clarified. "I had bought the camera just so, maybe, we could take pictures with him at the end. But when he started talking, I just hit go."
"Did you plan to, sort of, use it against him when you hit play?" asked BuzzFeed editor Ben Smith.
"I honestly thought it was going to be an hour worth of boring," Prouty said. "I thought that I would show it to one or two people and that was it. It was curiosity."
At the end of what he billed as his final television appearance, Prouty, a totally apolitical bartender, said that he hoped MSNBC's viewers would take a look at the work done by Charles Kernaghan, the Director of the Institute for Global Labor and Human Rights. That's an organization which has praised MSNBC host Ed Schultz for his pro-organized labor activism and accused Mitt Romney and Bain Capital of investing in Chinese sweat shops.
Prouty said Kernaghan offered him a job, which was "the goal of coming out," and he would be heading off to Washington. Quite a career change for a totally apolitical bartender.
Watch the clip below via MSNBC:
> >Follow Noah Rothman (@NoahCRothman) on Twitter
Have a tip we should know? tips@mediaite.com