Heroic: Game Show Host Boldly Defies Government Censorship Amidst Turkish Turmoil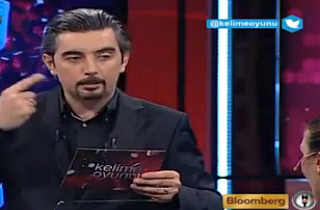 You may not be hearing much at the Turkish uprisings because, well… American media just isn't very good at covering foreign events. But one of the themes to generate from the nation's turmoil is that their own media has paid very little attention to the protests, instead broadcasting footage of penguins while intense protests rage on in the streets. It's basically a media blackout over there, or, in other words: de facto censorship.

A professor at Princeton University's Center for Information Technology Policy flagged down an incredible display of defiance against such censorship coming from, of all people, a Turkish quiz show host.
During the weeknight "Guess the Word" program this week, host Ali ?hsan Varol barely concealed his intentions to jab at the Erdo?an regime with questions whose answers were provocative, topical phrases like "resign," "censorship," and "solidarity."
Reports indicate that Twitter was abuzz with Turkish viewers "standing up and clapping in front of their TV sets" in response to Varol's political satire. The New York Times suggests the game show host's actions might have gotten him in trouble with authorities:
The day after his sudden turn into political satire, Mr. Varol reported on Twitter that he had been asked not to go ahead with the scheduled live broadcast of his show and that a prerecorded episode would be shown instead. On Wednesday, the Turkish newspaper Hurriyet reported, the host described his current situation as "somewhat complicated."
The video is entirely in Turkish, but below the embed we've provided the translations for each question, via Zeynep Tufekci's blog. You can follow along and see the emotions unravel as the show wanders further and further into politically dangerous territory:
[h/t Hot Air]
— —
>> Follow Andrew Kirell (@AndrewKirell) on Twitter
Have a tip we should know? tips@mediaite.com