Hey, Remember That Time Scarborough Wouldn't Rule Out Running as Trump's VP?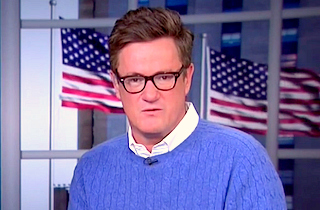 Two weeks before Donald Trump thanked MSNBC host Joe Scarborough for being his "supporter" on air, Scarborough wouldn't rule out running on the same ticket as Trump when asked by radio host Hugh Hewitt.
"I tell people I really believe if Donald Trump wins the Republican nomination, your phone, Joe Scarborough, is going to ring, and he's going to offer you the vice presidential nomination. Will you accept it?" Hewitt asked.
Scarborough laughed at that suggestion. "Oh, I'll take a weekend at Mar-A-Lago. I don't know where you get that from," he said.
"I don't know. I don't think he would ask me," he said when pressed by Hewitt. "Trump – you know, again, you always get me in trouble with these questions. So let's move on."
"I will say this," Scarborough finally said after more pressing, "and I've said this on the air, and so this is not really any secret at all. I'll do anything that will stop us from eight more years like the past eight years we've had."
"And so if that included saying yes, you'd say yes?" Hewitt asked.
"I mean, I think I'd put myself in your category. I would do just about anything to try to get the White House back," Scarborough finally said.
Hewitt told the MSNBC host he was taking that as a yes, despite his protestations to the contrary. "No, it's not a yes," Scarborough replied. "You're telling me this is why I walked away from dinner with my kids, to not answer this question?"
It wasn't until the story began to spread on social media (and thanks to coverage from CNN and Media Matters) that Scarborough took to Twitter to finally rule the idea out definitively.
I rule it out. Now on to more important things. What's REM's best album? 1/ Murmur 2/ Reckoning or 3/ Fables? https://t.co/q92WudtDye

— Joe Scarborough (@JoeNBC) January 28, 2016
It's also clear to see where the beginnings of the Dylan Byers/Scarborough feud were, as Scarborough tore into CNN for reporting on the story.
I HAVE RULED IT OUT REPEATEDLY. Nice distortion, CNN-> MSNBC's Joe Scarborough won't rule out he'd run as Trump's VP https://t.co/Iv1T8Lkk6L

— Joe Scarborough (@JoeNBC) January 28, 2016
It's really bullshit that CNN buys media "reporters" that then lie about reporters on competing networks. A pattern. https://t.co/Iv1T8Lkk6L

— Joe Scarborough (@JoeNBC) January 28, 2016
Listen above, via The Hugh Hewitt Show.
[Image via screengrab]
——
>>Follow Alex Griswold (@HashtagGriswold) on Twitter
Have a tip we should know? tips@mediaite.com