High Road? Rick Perry Refuses To Rebuff Hoffa Speech During Fox and Friends Appearance
Rick Perry Refuses To Comment On Hoffa Speech During Fox and Friends Appearance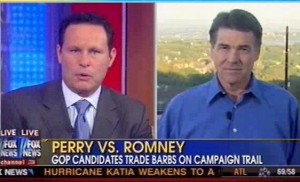 GOP presidential front-runner and Texas Governor Rick Perry appeared on Fox and Friends this morning to bring attention to the deadly brush fires currently sweeping his home state. While his clear focus was to apprise viewers of the dire situation and bring warning to those potentially in danger, Brian Kilmeade tried to slip in an opportunity for Perry to condemn the controversy du jour: the inflammatory speech made yesterday by union leader Jimmy Hoffa, Jr. in which he called on voters to "take the son of a bitches out." Perry did not take the bait, refusing to condemn the comments.
What is interesting in the following exchange is not just that Perry demurred on condemning the rhetoric, but the odd chiding by host Gretchen Carlson that followed:
Kilmeade: Governor, i know you're focused on the wildfires, but when somebody says something like that, do you say that's appropriate, inappropriate, par for the course? What's your reaction?

Perry: Well, you wouldn't be bleeping if it was appropriate. The bottom line is the people I'm more interested in are out here on these fire lines. They're hard working men and women. There is probably union firefighters out there and god bless them for helping save Texas lives and Texas homes.

Carlson: I bet when you get down with that crisis, you'll have a message for Jimmy Hoffa and we'll have you back on the show to see what you have to say about that, Governor, 'cause i know you'll have something to say about it when you're done there in Texas.
Watch the clip below, courtesy of Fox News:
Have a tip we should know? tips@mediaite.com
Colby Hall - Founding Editor