Hilarious: Jonah Hill Tells Jimmy Fallon How He Got In A Fight With Glee's Matthew Morrison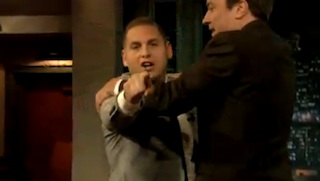 Bad news, guys; Mr. Shue is a bully. At least, according to Jonah Hill he is.
Last night on Late Night with Jimmy Fallon, Hill told a story about his time at the fall upfronts and how he was the "unpopular new kid" when hanging out with all the other Fox actors only for things to get worse when he started getting picked on by a "cool kid," Glee's Matthew Morrison. I'm not sure why, but this clip might be the funniest thing Hill's done since Superbad.
For those of you that don't know, the upfronts occur before a new television season. They're presentations the networks give to advertisers where the stars and creators of their upcoming shows try to smile and wave as much as they possibly can so the advertisers will give them money. Like Hill says at the beginning of the clip, the whole thing is kind of stupid. However, that's the way television works and, if a channel like Fox is nice enough to put on your show (Hill co-created and is starring in a new animated series), you might as well help them get some cash.
Anyway, the story, which features cameos from Zooey Deschanel, Randy Jackson, and "a Gossip Girl guy," is absolutely hilarious. I'm not sure anything that ends with Jonah Hill challenging a star of Glee to a fight through the camera by saying "Try and sing your way out of this one!" could not be.
Watch the clip from NBC below:

Have a tip we should know? tips@mediaite.com