Hilary Rosen: GOP Misstatements Resonate with Media Because 'Policies Connect with Denigrating Minorities'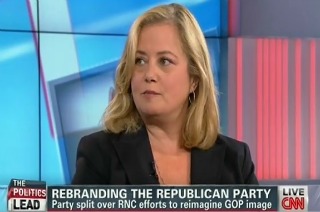 In a discussion about disrespectful statements allegedly made by Maine Gov. Paul LePage about President Barack Obama, Democratic strategist Hilary Rosen said on CNN that LePage is indicative of the GOP's problem with minority voters. Noting that the GOP has "a couple of racist governors," Rosen also insisted that the media is more moved to indignation over Republican misstatements on race because their "policies connect with denigrating minorities."

This week, reports circulated that Gov. LePage accused Obama of "hating white people." LePage denies that he ever made that remark, though the Maine governor has a history of making inflammatory statements.
"Yes, they've got a couple of racist governors," Rosen said.
"A couple?" CNN host Jake Tapper interrupted.
"Well, at least one," Rosen clarified.
RELATED: MSNBC Panel Concedes Double Standard With Nikki Haley: If GOPer Leveled Attack, 'We Would Have Led With It'
The Washington Examiner reporter Philip Klein later said that the trajectory of stories like this in the media usually consists of members of the press seeking out Republican officeholders and asking them for their comment about LePage's statement on the record. He noted that Democrats almost never receive the same treatment from mainstream press outlets.
"It's not really, necessarily, about the personal slurs," Rosen opined. "It's because the policies they're espousing connect with denigrating minorities, and I think that's why republicans get it more."
With this assertion, the CNN panel exploded. However, the segment ended without any of the panel guests being able to respond to Rosen's comment.
Watch the clip below via CNN:
> >Follow Noah Rothman (@NoahCRothman) on Twitter
Have a tip we should know? tips@mediaite.com