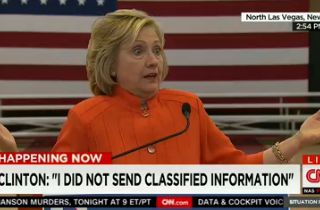 During her Tuesday town hall in Las Vegas, Hillary Clinton was asked by Fox's Ed Henry about whether she plans on taking on taking responsibility for her email scandal instead of making jokes and blaming Republicans. Clinton responded that she took responsibility when she handed over her first set of emails, and that her actions were legally permitted.
"I know there is a certain level of anxiety or interest in this," Clinton said, "but the facts are the facts."
Henry challenged her by asking whether there would be as much commotion if she kept everything on her government account. Clinton dismissed this by saying that the state department sometimes has inner disagreements about what information can go out, and that this kind of investigation happens all the time.
When asked about the FBI reports that said she tried to wipe her server, Clinton asked if it was done "with a cloth" after defending herself by shrugging and saying that her emails were her personal business.
"All I can tell you is in retrospect, if I had used a government account, and I had said, let's release everything, let's let everybody in America see what I did for four years, we would have the same arguments," Clinton said.
Though the server has been wiped clean, the FBI said today that they are confident that they will be able to retrieve at least some of the information lost.
Watch the clip below, via CNN:
And Clinton's "with a cloth?" remark below, via ABC:
[image via screengrab]
Have a tip we should know? tips@mediaite.com