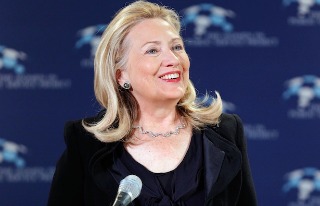 Hillary Clinton has played many important roles over the years — First Lady, Senator, Secretary of State — but subject of stage and screen has never been among them. Now, however, it seems that is about to change as two separate projects are slated for production about her life and career — one a miniseries, the other a feature-length film.
The former, commissioned by NBC to bolster its viewership with event programming, has even already been cast with Diane Lane set to portray Mrs. Clinton. According to Reuters, the series will be called "Hillary" and it will cover her life from 1998 to the present, with NBC projecting its debut in early- to mid-2015. The part of her husband has as yet not been cast.
The CNN project has recently acquired the director Charles H. Ferguson, who has previously made an Oscar-winning documentary about the financial crisis called Inside Job and is currently involved in an HBO film about Julian Assange. His project on Clinton has neither name nor release date at present, but will also likely premiere around the time the 2016 presidential campaign begins to heat up.
Both of these networks, moreover, face skepticism and potential problems from the movies because of their role in reporting news as well as providing entertainment. Both NBC News and CNN News departments have distanced themselves from the projects, saying that their reporting was separate from anything the editorial boards might do, but controversy is more than likely in the future when the pieces are released. Depending on the circumstances, potential running mates (if Clinton decides to run) may call for equal time.
In Hollywood, an additional project generated some buzz in January, with a new script for a film called Rodham, covering Hillary in her twenties before her future was certain gaining interest in the movie industry. It is in development, reportedly in the casting stages, and is not likely to face the same scrutiny as the the television works.
Certainly, all of the people involved are literally banking on the Clintons' ability to generate interest and draw in viewers — and with so many Hillary-themed projects in development, competition may be stiff.
Have a tip we should know? tips@mediaite.com