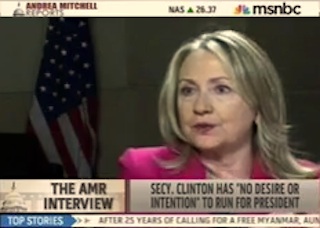 Speaking to MSNBC's Andrea Mitchell on Monday, Secretary of State Hillary Clinton criticized Rush Limbaugh's controversial remarks about Georgetown University law student Sandra Fluke. "I think we need to call people out when they go over the line," Clinton rebuked. "They're entitled to their opinion but no one is entitled to engage in that kind of verbal assault. Let's keep it to the issues."
RELATED: Rush Limbaugh Apologizes For Calling Sandra Fluke A 'Slut'
"Rush Limbaugh in this campaign, did he go beyond anything that we have previously experienced in the way he attacked a civilian? A young woman who had just spoken up?" Mitchell questioned Clinton.
"Well, I try very hard to stay out of the politics, so let me put the campaign and the implications to one side. That is for others to comment on. But as a woman and as someone who can vaguely remember being a young woman…" Clinton began.
"And as a mother.." Mitchell interjected.
"And as a mother of a young woman of that age and generation, I thought the response [to Limbaugh] was very encouraging. The response from the public, the response, in particular, from women cutting across all kinds of categories, the response from advertisers."
Mitchell brought up Chelsea Clinton's appearance at a forum with Fluke, where she introduced her by saying, "She and I have something in common. We both have been attacked by Rush Limbaugh. She was 30, I was 13."
"We, as a nation, have every right — and in fact I welcome it — to engage in the kind of debate and dialogue that is at the root of who we are as Americans," Clinton said. "But lets not turn it into personal attacks and insults. We're beyond that. We're better than that and people in the public eye have a particular responsibility to avoid it."
Watch Clinton's reaction to Limbaugh's comments below via MSNBC:

Have a tip we should know? tips@mediaite.com